Toshiba America Electronic Components, Inc. has introduced its first CMOS image sensor for mobile devices to enable iris recognition, a form of biometric authentication. Omitting the color filter integrated into the pixel structure of most conventional CMOS image sensors, the 2.1-megapixel (MP) T4KE1 gains increased sensitivity in the near-infrared (NIR) region—a key portion of the spectrum for iris recognition purposes.
Toward a Password-free Future
Although password entry remains the most common authentication method for mobile devices, iris recognition eliminates the possibility of forgotten or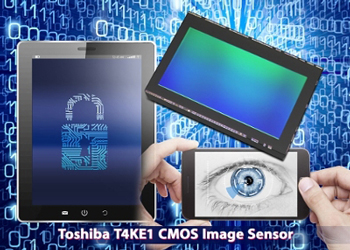 Toshiba T4KE1 CMOS Image Sensormisused passwords. In Toshiba's words, iris recognition allows the creation of "you are the password" access.
The T4KE1's backside illuminated (BSI) design boosts light-gathering power, thereby improving low-light performance. With an optical size of 1/7.3 inch, a 1928 x 1088 pixel array and 1.12 µm pixel pitch, the sensor captures 60 frames per second (FPS) of 1080 progressive-scan video, or 100 FPS of VGA-resolution video. It operates over 0º C to 60º C. The MIPI CSI-2 serial interface—widely used in mobile devices—facilitates the sensor's integration into end products, and a picture flipping function allows output images to be flipped horizontally, vertically, or both.
Reference Camera Module Included
To assist customers in evaluating the sensor in their mobile product designs, Toshiba provides a 5.2 mm x 6.0 mm x 4.06 mm reference camera module with the T4KE1. Design information and technical support included with the module help shorten development turnaround time.
Samples of the T4KE1 CMOS image sensor are available now. Mass production is scheduled to begin in December 2015.
To contact the author of this article, email engineering360editors@ihs.com