Artificial Intelligence (AI) is a technology that global IT companies are always trying to take advantage of, and the competition is growing. Most AI technologies focus on software, while operating speeds remain low. This means that they are not fit for mobile devices yet. Many big companies are focusing on developing AI with low power and high speeds, hoping to make AI fit for mobile use.
A research team from the Department of Electrical Engineering led by Professor Hoi-Jun Yoo is hoping that their new semiconductor chip, CNNP (convolutional neural network Processor), will fix this problem. CNNP runs AI algorithms with low power and uses K-Eye, a face recognition system. The team collaborated with UX Factory Co.
There are two K-Eye series formats: a wearable type and dongle type. The wearable type is smartphone compatible with Bluetooth and can operate for over 24 hours with an internal battery. K-Eye hangs around the user's neck, and using K-Eye they can check information about people through their smartphone or smart watch that is connected to K-Eye. The dongle type device, K-EyeQ, can view and share information about users at any time.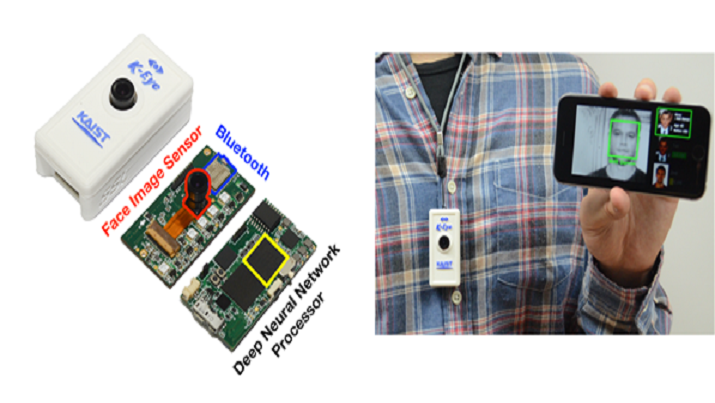 This is a schematic diagram of K-Eye. (Source: KAIST)
The smartphone recognizes the authorized user who is looking at the screen and it automatically turns on without a passcode, fingerprint or iris identification. It also cannot be tricked by a photograph. K-Eye can distinguish the difference between a photograph and a real person, so it is very secure.
The K-Eye series has other helpful features. It detects the face and then recognizes, so it is possible to maintain "Always-on" with low power consumption of 1 milliwatt. The research team achieved this through two technologies: the CNNP face recognition chip and an image sensor with "Always-on" face detection.
The "Always-on" image sensor can determine if a face is within camera range. It then captures frames and the device will operate only when a face exists in the camera range. This reduces the standby power. The detection sensor combines analog and digital processing, which reduces power consumption. With this combination, the analog processor and CMOS Image Sensor array differentiate the background from the area likely to have a face, and the digital processor detects only the face in that area. This is what makes it so effective with frame capture; face detection processing and memory usage.
The CNNP has low power consumption by optimizing the convolutional neural network (CNN) in the circuitry, architecture and algorithm areas. The on-chip memory that is integrated on the CNNP is designed to enable data to be read in a vertical and horizontal direction. It has great computational power, with 1024 multipliers and accumulators operating in parallel. It is also capable of directly transferring temporal results to each other without accessing external memory or on-chip communication network. Lastly, the convolution calculations have a two-dimensional filter in the CNN algorithm and are approximated into two sequential calculations of one-dimensional filters. This achieves higher speeds and low power consumption.
CNNP achieved 97 percent high-accuracy and consumed only 1/5000 power of the GPU. Facial recognition can be performed with .062 milliwatt power consumption. The chip shows higher performance than the GPU through using more power.
To learn more about the K-Eye technology visit the site here.