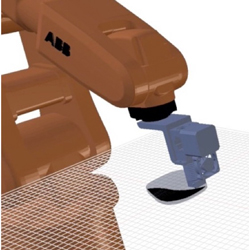 Simulation of ABB robotic arm performing 3-D printing tasks. Image credit: Business WireArevo Labs has introduced a scalable robot-based additive manufacturing platform (RAMP) for the fabrication of 3-D printed complex composite parts. The company claims that it is the first-of-its-kind solution that combines a commercially available robot, composite deposition end-effector hardware and a comprehensive software suite. The solution is tailored to ABB's small six-axis robot, the IRB 120. It can also support larger ABB robot models and sizes. The solution consists of a deposition head with advanced thermal management technology to process carbon- fiber reinforced thermoplastics.
The software solution features CAM software to convert CAD models to a set of additive deposition instructions for the robot and a precise kinematics simulator, which interprets deposition instructions to validate and optimize part construction.
The platform's multi-axis tool paths deliver production quality parts constructed with true 3-D surfaces in variable orientations. The resulting parts are said by the company to have strength and aesthetics superior to those made with conventional Cartesian-based additive manufacturing solutions. The platform maximizes size scalability and production efficiency. Depending upon the size of the robot, the part build envelope is scalable from 1,000 cubic millimeters to 8 cubic meters.
To contact the author of this article, email engineering360editors@ihs.com