Give a quick look around the current semiconductor industry. It is not the same as it was a couple years ago, and it would not be the same if the current streak of mergers and acquisitions runs on into next year.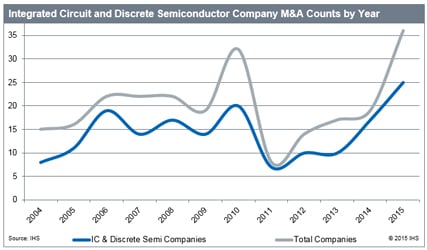 Integrated circuit and discrete semiconductor company M&A counts by year. Source: IHS2015 will be a year for the books for the electronics component industry, marking changes the industry has not seen since the early 2000s. As of mid-October, there have been a total of 36 company acquisitions, mergers and product line sales, and the trend will continue in the near-term, according to IHS analysts.
There have been more than a few big headline grabbers so far. Among them were the $40 billion merger of NXP and Freescale; Intel acquiring Altera for $16.7 billion; and Avago Technologies acquiring Broadcom for $37 billion in cash and stock, a move set to create a new powerhouse company valued at $77 billion.
"M&A (merger and acquisition) is likely to continue through 2016 as middle sized companies continue to seek ways to increase economies of scale (partly to defend against competition that has already done so) and build synergy amongst disparate technologies expertise in an attempt to become more marketable in a highly data driven and connected landscape," says Tom Hackenberg, principal analyst of embedded processors at IHS in an email interview with Electronics360.
What is the spark behind the trend? There are a few main reasons fueling the feverish M&A activity among cash-rich chipmakers who are seeing competitive pressures drive down chip costs, IHS analysts noted in recent blog posts and market insight reports. Among them:
Sharply rising manufacturing costs
Adopting new strategies aimed at staying profitable, increasing production scale and consolidating resources
Looking for investment opportunities
Bolstering organic growth with acquisitions
Expanding into and positioning products in fast growing market segments
Adding complementary technology expertise or intellectual property

Merger & acquisitions trend report. Source: IHS
Beyond these obvious reasons, which have historically driven deals across many sectors, there are hints of other shifts underlining the current activity.
One of them has to do with the important migration from selling products to selling ecosystem solutions, Hackenberg says.
Some of this is directly tied to the physics involved in designing and making new chips that keep pace with Moore's Law. On one hand, designing new ICs is "becoming drastically more expensive as manufacturing process geometries that have relied on shrinking transistor sizes are fast becoming problematic," Hackenberg writes in his market insight report. As circuit structures become smaller and more complicated to make, companies are looking for new ways to amortize the development costs. This will become even more challenging in a consolidated chip market where semiconductor pricing continues to decline and production costs continue to rise.
Companies that build out their ecosystem solutions and more effectively bridge hardware and software partnerships may create an edge when the M&A frenzy cools down, Hackenberg says.
"In the semiconductor industry, the recent M&A [activity] could have an additional driver across the whole market, and that is the rising cost of developing manufacturing processes needed to extend Moore's law and the increasing pricing pressures of high volume markets," Hackenberg tells Electronics 360.
"I believe that the successful providers will have economies of scale or niche solutions for small markets, but what will also be necessary is strong ecosystem support. It will require strong hardware and software partnerships," he adds. "I think the recent Renesas Synergy platform development announced by Renesas could be the first of many such solutions that enable hardware vendors to differentiate themselves through value-added solutions that don't involve the shrinking profit margins between growing manufacturing costs and shrinking prices."
Another factor that is hard to ignore is the important disruptive role chips play in delivering Internet of Things (IoT)-powered promises. With machine-to-machine connectivity gaining widespread appeal and IoT concepts entering into everyday vernacular, semiconductor companies' ability to address multiple issues simultaneously will become more critical.
The market for microcontroller units (MCUs) used in IoT applications is expected to grow at an overall compound annual growth rate (CAGR) of 11%, from $1.7 billion in 2014 to $2.8 billion in 2019, according to IHS. The overall MCU market is expected to grow at a CAGR of just 4% through 2019.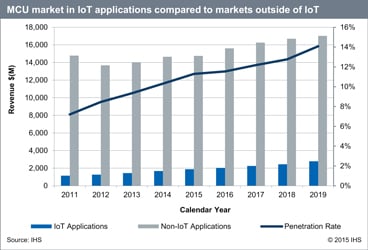 MCU market in IoT applications compared to market outside of IoT. Source: IHS
"IoT just happens to be an area that brings together some disparate expertise to support what is likely to be a very rapidly growing target for solutions providers. The IoT will drive demand for connectivity technologies, sensors and controllers, big data processing, data acquisition and distributed control systems, security expertise, power management and many other areas where various suppliers have developed along lines of expertise," Hackenberg writes in an email. "But to get in early and develop a brand identity as a leader in this fast growing technology trend, IoT solutions providers will need solutions to all of these issues at once."
Even with these dynamics in the background, the frequency at which M&As have happened these last couple of years is not likely to be sustainable over the long run, he says. What is likely to cause a slow-down in deal-making is a shift toward addressing solutions to Moore's law-related problems and finding new ways to reinvigorate a more predictable and sustainable growth in performance that does not involve the current high cost of development, he says.
Questions or comments on this story? Contact engineering360editors@ihs.com