PITTMAN Motors has announced an addition to its IDEA drive motor controller line, the PBL4850E programmable three-phase brushless motor drive. The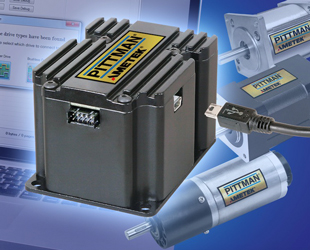 The PBL4850E is designed to eliminate the need for programmable logic controllers or field communication busses. Source: PITTMANPBL4850E enables distributed stand-alone complex motion profiles intuitively and rapidly. It also eliminates components such as programmable logic controllers and field communication busses.
The device is a four-quadrant brushless controller that uses sinusoidal commutation to yield smooth motion, minimizing torque ripple. The drive incorporates two motion profiles: trapezoidal and s-curve. The latter is used to eliminate jerk due to rapid velocity changes. The drive delivers programmable current control of up to 5.6A peak with an optional current boost during ramping to 6.5A peak. Based on an input voltage of 12-48 VDC, the drive accommodates a wide range of brushless motors. Hall cell signals are used for phase initialization and an encoder provides positional feedback.
Features include the automatic population of motion profile parameters by entering a limited number of motor characteristics. Complex motor calculations and knowledge of motor specs are no longer necessary. Configurable IDEA software is designed to speed programming motors with the use of intuitive, on-screen buttons and enables users to troubleshoot easily. Also included are eight opto-isolated GP inputs and outputs. Each input is rated for 5 to 24 VDC, 8 mA maximum per input while the outputs are open collector, 5 to 24 VDC, 200 mA maximum per output. The drive communicates via a USB to mini USB.
To contact the author of this article, email engineering360editors@ihs.com
Related Links: