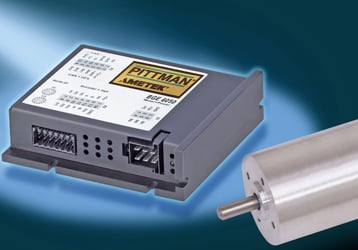 The PITTMAN BGE Brushless Drive. Source: PITTMANPITTMAN has announced the BGE Series of servo motor controllers that feature compact, four-quadrant positioning motion controllers with an integral output stage to specifically control Pittman brushless and brushed DC motors. The controllers can operate as stand-alone with digital or analog I/O, or as a slave in a CANopen network with device profile DSP 402, protocol DS 301.
The motion controllers is rated from 12VDC to 60VDC input voltage and 4 amp to 20 amp continuous output current. Data regarding a motor's rotor position is supplied to the positioning controller by an encoder or by integrated Hall sensors within a brushless motor. The controls deliver protection against over-voltage, low-voltage and excessive temperature.
When four-quadrant digital speed control is needed, the control can run in either direction, stop and hold with or without torque, through digital inputs. Other inputs can switch between programmed speeds or allow for a variable analog speed reference. In addition, accel/decal ramps for the motor can be programmed.
BGE Series electronic controllers are designed for volume OEM apps, and offer a design alternative for restricted spaces. They also can be used in extreme environmental conditions.
To contact the author of this article, email engineering360editors@ihs.com
Related Links:
For more information, visit www.Pittman-Motors.com.