Microsemi Corporation has expanded its Space System Manager (SSM) product family with the introduction of a radiation-tolerant motor controller that helps to reduce the weight and area in satellites and human-related space programs.
The LX7720 is a mixed-signal device that Microsemi claims reduces significantly the weight and board space in space-bound devices compared to conventional discrete motor control circuits. The device works with a field-programmable gate array (FPGA) and components also offered by Microsemi specifically designed for the space market.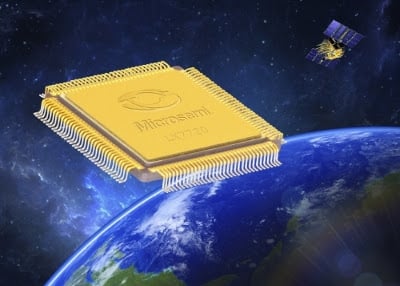 Microsemi's second radiation-tolerant motor controller can be used for new satellites and human-based space programs. Source: Microsemi Microsemi says the device has already been adopted by some space customers to enable motor control applications for space robotics and human-related space programs, including motor drive servo control, linear actuator servo control and driver stepper, brushless direct current (BLDC), and permanent-magnet synchronous motors (PMSMs).
These applications serve on satellite busses for solar panel deployment and driving reaction wheels; on spacecraft payload instruments for multi-axis point mechanisms for antennas and laser terminals or for precise motion control of lenses, filters and mirrors; and in robotics applications such as pressure-sensitive motion control.
This is the second radiation-tolerant motor control device that Microsemi has introduced in an effort to get a slice of the new satellites that will be launched over the next decade. Euroconsult says 60% more satellites will be launched by 2024 than were launched in the past decade—driven by space-enabled countries replacing and expanding their in-orbit satellite systems and more countries launching their first satellite systems.