Semiconductor companies are going to spend about the same amount on fab equipment in 2013 as they did last year, but the overall market is forecast to rebound strongly in 2014, according to industry association SEMI.
SEMI projects global equipment spending will reach $31.7 billion in 2013, compared with $31.8 billion in 2012 and rebound to $39.26 billion in 2014.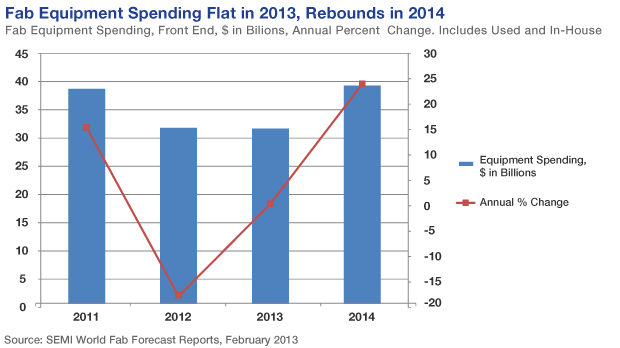 Capacity is now forecast to expand by just 2.8 percent this year and 5.4 percent in 2014. Excluding 2009, the years 2012 and 2013 show the lowest growth rate for new capacity over the past 10 years. However, pent-up demand is expected for some product types because capacity additions have been cut to minimum levels while chip demand keeps increasing.
Capacity additions and equipment spending are expected to pick up in the second half of 2013. In 2014, at least 5 percent in new capacity will be added and fab equipment spending will increase by 24 percent.
The SEMI World Fab Forecast also reveals that in 2013 increases for fab equipment spending will vary by technology node and that overall fab construction spending will increase 6.7 percent to about $6 billion, with major investments taking place in China. The report tracks equipment spending at over 180 facilities in 2013.
Although the overall outlook has improved somewhat, fewer players in the market can afford the rising costs for R&D and upgrading facilities as the amount of money needed to keep pace with the technology requirements is immense.
Fab equipment spending for 17nm and below is expected to kick off in 2013 and increase by a factor of 2.4 to about $25 billion in 2014.
In 2014, however, new construction project spending is expected to contract by about 18 percent. Construction spending is led by TSMC, with seven different projects in the works for 2013; followed by Intel. Fab construction spending in China will increase by a factor of four due to Samsung's Mega fab project in Xian.