The market for smartphone sensors is on the cusp of change as a result of changing dynamics in the mobile handset space and Chinese OEMs accelerating their sensor spending, according to a new report from IHS.
While Apple and Samsung will remain the dominant buyers of sensors for smartphones through 2019, their share of sensor spending will fall, IHS says. Apple occupied 47% of smartphone sensors in 2014, but by 2019, this share will fall to 34%. Meanwhile, Samsung's share will decline from 23% to 15%. However, Chinese OEMs will increase their share of revenues on sensors sold to the smartphone market, from 20% in 2015 up to 38% in 2019.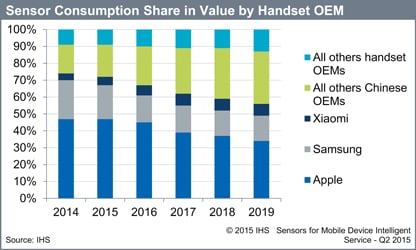 Apple and Samsung will continue to be the dominant buyers of sensors, but Chinese OEMs are rapidly gaining share. Source: IHSThe decline in sensor spending from Apple and Samsung is the result of the growth in the overall smartphone market, meaning more players buying more sensors diluting the spending share of the two smartphone giants. For Samsung, it is also the result of falling unit shipments as it is getting hit from both ends of the smartphone market—at the high end with Apple and at the low end with Xiaomi and other Chinese providers, IHS says.
"The smartphone market is healthy, dynamic and extremely competitive," says Marwan Boustany, senior analyst for MEMS & sensors at IHS. "Chinese OEMs have proved to be willing to try any new technology that allows them to compete more successfully. Of the many Chinese handset manufacturers, Xiaomi will consume the greatest number of sensors in 2019."
China has become an interesting environment for sensor suppliers to enter into the competitive smartphone market as the country is viewed as a place to test out new ideas and fine-tune supply chains as well as to differentiate their models with innovative features. Beyond the adoption of new sensors, more standard sensors are now being adopted in high volumes thanks to growth in sales of both mid-range and high-end smartphones, IHS says.
This uptick in sensor spending and adoption is being helped by the Chinese government's decision to aid local companies to increase local

Marwan Boustany, senior analyst for MEMS and sensors at IHSmanufacturing and sourcing of electronic components. However, currently there are only a handful of suppliers with a narrow portfolio including AAC Technologies and GoerTek for microphones; MEMSIC for accelerometers and magnetometers; and QST and other emerging startups for motion sensors.
"With the Chinese government's strategic goal to increase the share of domestic suppliers, there is an opportunity for Chinese suppliers to expand their portfolios and become the preferred suppliers for Chinese OEMs," Boustany says. "At the moment, though, it seems that Chinese OEMs are happy to use any supplier that fulfills their volume, performance and price requirements."
Questions or comments on this story? Contact engineering360editors@ihs.com
Related links:
Sensors for Mobile Devices Intelligence Service
News articles:
6-Axis Motion Sensor for Smartphones and Tablets Introduced by STMicroelectronics
New Line of Touch Fingerprint Sensors Under Glass Launched by FPC
Melexis Adds Elevated Current Sensor to Programmable Hall-Effect MLX91208 Series