Samsung, Apple and their Chinese followers will drive growth in the ambient light sensor market in 2015 and 2016, according to a report by IHS Technology.
Such light sensors are used mainly with displays to adjust screen brightness for ambient lighting conditions, although IR and UV light are also being adopted for gesture recognition, depth mapping and other applications. Since smartphones sell at higher volumes than tablet and notebook computers, they tend to do the most to drive sales.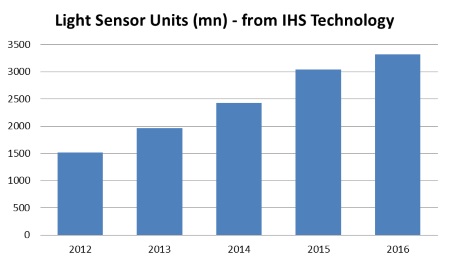 IHS predicts that annual ambient light sensor shipments will reach about 3.3 billion in 2016 up from 3 billion in 2015. The market is projected to be worth about $767 million in 2016.
Samsung spent $271.8 million on light sensors in 2014 and accounted for 43 percent of light sensor spending in handsets, according to IHS. Apple was the second largest spender in 2014, spending $129.5 million and accounting for 19 percent of light sensor spending in handsets, IHS said.
Chinese OEMs represented 23 percent of light sensor spending in 2014, mostly on standard, low cost components and a small percentage of high cost, high performance parts.
"Between 2013 and 2015, there has been a rapid adoption of light sensor units, mostly thanks to Samsung," said Marwan Boustany, senior analyst for MEMS and sensors at IHS Technology, in a statement. "Samsung has led the mass adoption of RGB sensors, gesture sensors, optical pulse sensors and even UV sensors in this timeframe."
Austria's AMS AG was the top supplier of ambient light sensors in terms of both units and revenue in 2014, according to the latest report from IHS, Shining a Light on a Colourful Market. AMS design wins with Samsung and Apple helped it ship 744 million sensors in 2014, IHS estimates. Maxim was ranked second, shipping 132 million light sensors—the majority being optical pulse sensors going into Samsung devices.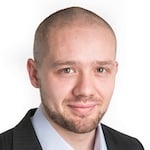 Marwan Boustany
However, 2014 was also characterized by the rise of three Taiwanese companies—Sitronix Technology Corp., Elan Microelectronics Corp. and Everlight Microelectronics Corp.—as second tier suppliers, IHS said. "Sitronix has been successful at being a second or third source to a range of top tier companies, which means it can grow safely and rapidly," Boustany said. "In 2014, it achieved about $25 million for a 69 percent revenue growth."
Questions or comments on this story? Contact peter.clarke@globalspec.com
Related links and articles:
Shining a Light on a Colourful Market
News articles: