Melexis has extended its MLX91208 series of programmable Hall-effect current sensors, with the introduction of an elevated current version—the MLX91208 CAV. Optimized for the very high fields found in hybrid and electric vehicle (HEV) applications, the device handles up to 1000A of primary current and complements the existing low-field and high-field MLX91208 products.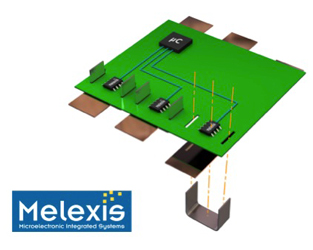 The Melexis MLX91208 CAV handles up to 1000A of primary current.Based on proprietary integrated magnetic concentrator (IMC) technology, the sensors in the AEC-Q100-qualified series accurately measure current without the need for inclusion of the bulky external ferromagnetic cores, typically required for conventional Hall-effect current sensors. The innovative IMC structure concentrates the magnetic flux, enhancing sensor performance. The devices save board real estate and simplify the assembly process, as they are housed in compact surface mount standard SOIC8 packages. They also exhibit a high degree of flexibility, with the ability for current data to be measured through adjacent bus bars, wires, or underlying PCB traces, with industry-leading precision and efficiency.
The MLX91208 CAV devices provide a fully cost-effective, contactless current sensing mechanism that meets required performance benchmarks and delivers the galvanic isolation mandated by high voltage applications, while simultaneously eliminating the additional sources of power loss that are found with shunt technology.
The MLX91208 CAV addresses the relatively high expense associated with inverter hardware that, until now, has slowed down widespread HEV adoption, by allowing migration to smaller, higher power density inverters.
Related Links:
http:// www.melexis.com/Current-Sensors/IMC-Hall-Current-Sensor-ICs/MLX91208-824.aspx