Great Wall Semiconductor Inc. has completed its process transfer to pure-play specialty foundry, TowerJazz, for its linear field effect transistor (LFET) products used in lithium-ion (Li-ion) batteries.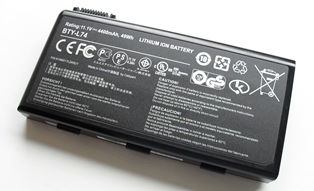 A lithium-ion battery from a laptop computer. Source: wikipedia.org Li-ion batteries are rechargeable while offering a higher current density, low self-discharge rates and minimal maintenance costs. The batteries are used in consumer electronics devices, automotive, industrial, power grid and renewable energy sectors.
TowerJazz says Great Wall will be able to quickly ramp volume of their LFET products using its TOPS process transfer services allowing the semiconductor company to gain market share and end market traction. By utilizing TowerJazz's Japan-based foundry, Great Wall will also be able to facilitate faster response from its customers, the Israel-based company says.
Questions or comments on this story? Contact engineering360editors@ihs.com
Related links:
News articles:
A Multi-Cell Li-Ion Battery Life Just Got Longer
3 Ideas Hybrid/Electric Vehicle OEMS are Using to Increase Consumer Adoption
Lithium Batteries: The Pros and Cons