Preserving battery life and reducing the burden on batteries are major challenges in the current connected mobile devices. However, Renesas has unveiled a lithium-ion (Li-ion) battery fuel gauge integrated circuit (IC)—the RAJ240500—designed to extend battery life for connected mobile devices such as tablets, notebook PCs and smartphones. The single-chip device delivers high-precision battery charge measurement and control that reduces the burden on the battery, contributing to longer device battery life. The company is also offering sample codes and evaluation tools as solutions, including the reference card circuit diagram.
In the past, battery control circuits had treated the battery as being at 'zero charge' even when capacity remained, and as 'fully charged' even when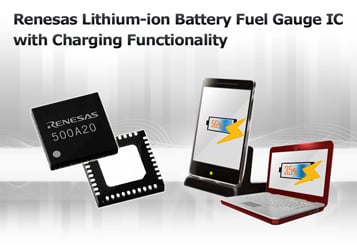 Renesas Lithium-Ion Battery Fuel Gauge IC. Source: Renesascharging was not yet complete, resulting in a shorter battery life relative to charge capacity. In addition, Li-ion batteries suffer from reduced capacity after repeated charge-discharge cycles. Repeated control when not fully charged or fully discharged reduces the number of charge-discharge cycles over the service life of the battery, which for many devices is equivalent to the service life of the device.
Renesas addresses the challenges with a two-in-one solution combining advanced algorithmic fuel gauge IC functionality with charger IC functionality in a single device. Integrating battery charge measurement, or fuel gauge, and charging functionality on a single chip allow designers to achieve high-precision charging control that closely matches the battery status. The battery's capacity can be used to the fullest extent to maximize battery life per charge and reduce the battery load and degradation rate to extend service life.
Samples of the RAJ240500 are now available, priced at $10 per unit. Mass production of the RAJ240500 is scheduled to begin in October 2015.
Related Links: