The AST4400 and AST4600 Hammer Union pressure transmitters by American Sensor Technologies (AST) are available with intrinsically safe or explosion-proof approvals and with SIL2 ratings.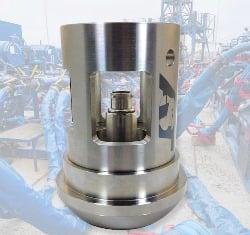 Hammer Union pressure transmitters operate in extreme conditions.Based on advances in sensor technology and materials, the AST hammer union pressure transmitters address the issue of drift common with intense applications by using a thick Inconel 718 diaphragm and silicon strain gages to increase survivability and long-term performance. The transmitter is lab tested for high shock and vibration resistance, with testing up to 1000G. AST also field tested units on- and offshore in the most extreme ambient conditions.
A cage design protects the sensor and mating connector, allowing for proper drainage in flooding situations, and optional handle mounting. The modular design allows for simple, fast, and low-cost replacement of the transmitter if a failure occurs.
Related Links:
http://www.astsensors.com/hammer-union-pressure-transmitter.php