Sensata Technologies, a provider of sensor solutions, has unveiled the new PTE7100 and PTE7300 hermetic pressure sensors for industrial applications with mid- and high-pressure ranges. Building on Sensata's automotive leading Microfused Strain Gauge (MSG) with best-in-class accuracy, this new series of pressure sensors provides high burst strength and high shock and vibration performance, making it a reliable and robust solution for customers with challenging measurement requirements.
The stainless steel design features a hermetic port without using internal o-ring seals, which enables sensor compatibility with most media and use in harsh environments. A snubber option is available to dampen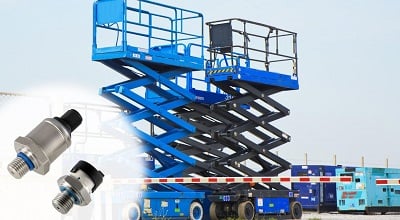 Source: Sensata Technologiespressure spikes from hammer and cavitation.
The PTE7100 series hermetic analog pressure sensor has a measuring range from 0 to 50 bar to 0 to 600 bar (0 to 725 to 0 to 8700 psi). The sensor's high mechanical shock rating of up to 500 g, vibration up to 30 g (10…2000 Hz) and a burst pressure of ≥10 times make it a reliable solution with an extended product life. A wide variety of highly customizable ports, connectors and analog electrical outputs allows for easy integration with existing system electronics in many industrial applications including self-propelled scissor lifts, injection molding, carbon dioxide HVAC systems and other hydraulic or pneumatic applications.
With a measuring range from 0 to 16 bar to 0 to 600 bar (0 to 230 to 0 to 8700 psi), the PTE7300 series sensor provides an I2C digital output of both pressure and temperature and is available in a fully hermetic IP69K package developed for wet environments. The PTE7300 features low power consumption for battery operation, fast response time, increased sensor diagnostics and sensor communication integrity check using cyclic redundancy check (CRC). The CRC of the communication data is additional to the integrity check of the internal chip memory and allows users to validate 100% of the sensor output, providing an extra measure of data protection for the sensor. In addition, the product is REACH/RoHS/CE compliant and is suitable for drinking water safe applications.