There are few more dangerous things in the world than a bunch of creative geeks armed with an interesting idea and a fistful of crowd-sourced cash. If you do not believe me, just look at the consumer electronics industry that has not been the same since the Maker movement met Kickstarter and turned pro. Kickstarter's ability to reach out directly to potential consumers has made it possible for innovative designers to bypass the large corporations (and their equally large marketing teams), which often have no interest in radical new products.
While many of the 3D printers, quadcopters and other maker-centric Kickstarter projects are aimed at a narrow, highly-specialized market segment, there is also a small but steady stream of crowd-funded products that address a much larger market segment. In some cases, they define an entirely new class of products. Two of the projects presented here are powerful examples of products that have shaped today's consumer electronics market. The final product in our lineup was picked because it is a "dark horse" project that moves yet another technology from the realm of science fiction to a must-have consumer item.
Pebble Smart Watch: A Kickstarter Star that shaped today's markets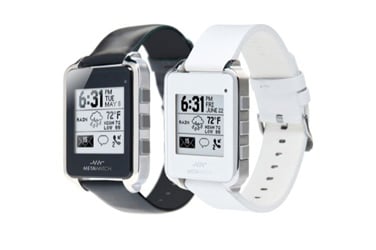 The Pebble Smart WatchWhen the Pebble Smart Watch made its debut on Kickstarter, it almost single-handedly defined and validated a new category of consumer electronics, anticipated to reach 101 million shipments in 20201. In doing so, it triggered a land rush that has the likes of Apple, Samsung and other CE giants competing for one of the most valuable pieces of real estate in the world—the human wrist.
Originally developed on an Arduino open-source computing platform, the friendly-looking wristwatch allows you to access your contacts, make or take calls, read texts, control your music and run a wide variety of apps, all without ever having to fumble with your bulky Smart Phone. Thanks to its aggressive pricing, best-in-class user experience and a growing community of third-party apps developers, Pebble has managed to ship more than one million smart watches and has recently generated more than $16.1 million through the most recent phase of its ongoing crowdfunding campaign2 .
Trending: Nomiku sous vide cooker - the 21st century crock pot
When Nomiku launched its Bluetooth-enabled precision temperature (sous vide) cooker on Kickstarter in 2012, it unleashed a pent-up demand for these unique devices that made them the kitchen appliance market's fastest growing product.
In case you are not familiar with the sous vide technique, it takes the concept of slow-cooking in a different direction by cooking food at very low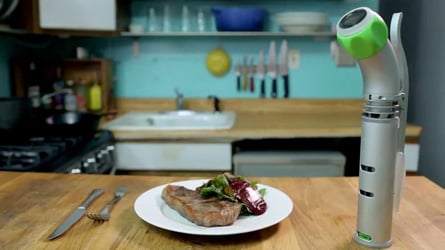 Classic Nomiku. Credit image: Nomiku. temperatures (typically 130-170 F) while it is sealed from flavor-destroying atmospheric oxygen for as long as 12 hours (1-3 hours is much more typical though). The resulting dishes are evenly-cooked, tender and full of natural flavors that would normally get lost during cooking.
While exclusive restaurants have used sous vide machines to produce tender, flavorful and nutrient-rich meats and vegetables for over a decade, the cookers' high prices ($2000-$5000) put them out of reach from the average consumer. Even the so-called consumer models (costing $500-$1000) were only affordable for a handful of serious home chefs until Lisa and Abe Fetterman developed easy-to-assemble open-source DIY sous vide "Ember Kits" and ran workshops on how to build and use them.
During this time, they met Wipop Bam Suppipat, a Thai national who was working as a chef in New York and who would eventually become the third Nomiku co-founder3. Together they developed the Nomiku, an immersion circulator of a highly-improved version of the Ember kit that was suitable for mass production and priced at under $300. Designed in-house by the trio, Nomiku started from a successful Kickstarter campaign in 2012, nearly tripling its goal of $200,000 from over 1,800 backers.
Since the introduction of its first product, Nomiku has developed a new Wi-Fi Connected version of the cooker, which can be programmed, controlled and monitored from a browser window or a mobile phone app development. This was funded in good part by another successful Kickstarter campaign that closed in September of 2014.
In addition to enjoying significant sales of its own, Nomiku was instrumental in defining a new class of maker-oriented home cooking products, including several other Sous Vide cookers and the artist cloud-enabled auto-barista.
Scio: a personal molecular sensor that's shaping tomorrow's consumer market
Thanks to the folks at Consumer Physics, you will soon be able to buy an inexpensive palm-sized gadget that enables you to do things such as:
• Scan fruits to determine their ripeness, sugar content and calorie content.
• Scan meats or seafood for traces of antibiotics, steroids or spoilage.
• Determine the health of the plants in your home or garden.
• Identify capsules containing medicine and nutritional supplements.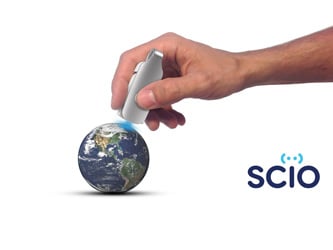 The SCiO personal molecular analyzer may be the first of a powerful new class of consumer tools. Credit image: Consumer Physics.This may sound like something out of Star Trek, but the palm-sized SCiO molecular sensor uses an inexpensive solid state near-IR spectrometer to get instant relevant information about the chemical composition of just about anything around you, and send it directly to your smartphone.
The SCiO is a cloud-enabled device that passes the raw measurements it takes to a sophisticated analysis package running on a remote server. Once processed into a series of spectral "signatures", the data is matched against an ever-growing database of known compounds and substances. Since the database is crowd-sourced, it gets deeper and smarter every time it is used.
When the SCiO completed its Kickstarter campaign in June 2014, it had raised over $2.7 million from almost 13,000 backers and over 900 developers. Delivery of the first units is anticipated in the fall of 2015.
SCiO's creators have created a feature-rich inexpensive development platform, which will encourage the development of third-party applications for both consumers and professionals, such as health workers, biologists and law enforcement officers.
To contact the author of this article, email engineering360editors@ihs.com
References:
1 – " Smartwatch Forecast 2015-2020: Apple's Competitors Will Benefit if Apple Watch Succeeds" https://technology.ihs.com/529966/smartwatch-forecast-2015-2020-apples-competitors-will-benefit-if-apple-watch-succeeds
2 - "Marriage of IoT, Maker Movement Paves Way for 'Fourth Industrial Revolution'"https://electronics360.globalspec.com/article/5095/marriage-of-iot-maker-movement-paves-way-for-fourth-industrial-revolution ,
3- Wikipedia entry: "Nomiku" - https://en.wikipedia.org/wiki/Nomiku