Revenues for service provider routers and switches climbed 19% in the second quarter of this year to $3.9 billion following a typically slow first quarter of the year, according to a new report from IHS.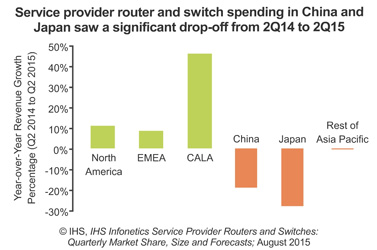 Revenue for routers and switches in China, Japan and Asia-Pacific increased 19% in the second quarter. Source: IHSDespite software-defined networking (SDN) hesitation still being an issue in the carrier routing and switching space as it has in the past few quarters, "core router upgrades and replacements prompted by the move to 100GE contributed to a nice uptick in the second quarter," says Michael Howard, senior research director of carrier networks at IHS.
Other router and switch trends in the market include:
As a result of the SDN hesitation happening, IHS forecasts the router and switch market to manage a compound annual growth rate (CAGR) of 2.0% from 2014 to 2019.
Revenues for switches and routers were up in all major geographical regions from a year ago except Asia-Pacific, which was down 16%.
Juniper rose to the No. 3 spot in the router-only market edging out Alcatel-Lucent and behind Cisco and Huawei, at No. 1 and No. 2, respectively.
Questions or comments on this story? Contact engineering360editors@ihs.com
Related links:
IHS Service Provider Routers and Switches
News articles:
Foxconn's Re-entry into India with $2 Billion Investment
Wi-Fi to Reach 90% of Global Households by 2019, IHS Says
Enterprise Router Sales Fall in 2014
Freescale Launches Regulator Targeted at IoT Infrastructure Equipment