Taiwan's Foxconn Technology, the world's largest contract electronics manufacturer is gradually shifting its sights from China to start manufacturing capabilities in India, Asia's third largest economy.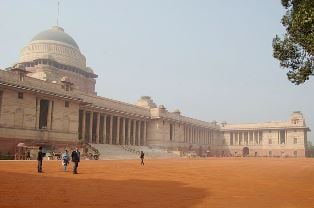 Rashtrapati Bhavan New Delhi, India. Source: Wikipedia.comIn a surprising move, considering that Foxconn has had a roller coaster ride in its India operations, the company has drawn up an extensive $2 billion plan to set up 10 to 12 plants, including factories and data centers by 2020.
One reason could be the pressure it is facing to keep its costs down in China where wages have doubled since 2010 and is fiercely battling rising expenses at its 25 manufacturing sites in China. The other reason could be the huge opportunity Foxconn envisages here, where India outshone other emerging smartphone markets in the Asia-Pacific region with a quarter-on-quarter growth of 27%, according to an IDC report.
Moreover, this year's budget has made imported handsets more expensive than those made locally. This has prompted a bevy of price-slashing feature-rich local handset makers such as Micromax, Lava, Karbonn among others as well as foreign handset makers such as Xiaomi, Gionee, Motorola, Lenovo and LG to step up production in India.
This may have prompted Foxconn to make its re-entry into the Indian market with a big bang along with Japan's SoftBank. "In addition to Chinese brands, we will be aiming to cooperate with local companies such as Micromax Informatics, which ranks second to Samsung Electronics as India's largest smartphone maker," Terry Gou, Foxconn's chairman says.
While Foxconn makes popular devices, such as iPhone, iPad, BlackBerry, Kindle and PlayStation in its facilities in China, it also manufactures for Cisco, Dell, Microsoft and Hewlett-Packard in China. In India, it plans to focus on manufacturing smartphones, tablets, televisions, routers, set-top boxes and printers among other products, according to a report in the Economic Times.
Manufacturing the iPhone in India may be some years away though, as this "requires high-precision equipment and high investment, plus a larger supplier base. This could happen some years later as the first step will be assembly of phones", the report says.
Foxconn's Torrid Past
The company had entered India way back in 2006, mainly to manufacture for Nokia, an important client at that time. Factories were set up in and around Chennai, south of India, but was forced to temporarily shut down one of its factory, after 250 workers were hospitalised. The workers, who made mobile phone components, had experienced "sensations of giddiness and nausea," caused by "routine spraying of pesticide," the company claims.
This was the first of many that dogged the company for several years. Labour-related issues relentlessly hammered its two Indian factories, which employed over 7000 workers at one point. The final nail in the coffin came when Microsoft bought out Nokia, Foxconn's single largest client in India forcing Foxconn to shut down its India operations in December 2014 because of dwindling orders.
Fresh Lease of Life
Now, a fresh lease of life has been given to its Indian operations when Gou announced on May 15 this year on the plans to develop 10 to 12 facilities in India, including factories and data centres by 2020.
Hardly a month later, SoftBank announced its plans to set up a mobile components manufacturing unit in India along with Foxconn. "The details are still work in progress. The announcement will be made in association with Foxconn later," Masayoshi Son, SoftBank's chairman and chief executive office reports.
According to a Reuters report, Gou says that its Indian plants will be modelled on the lines of those in China, where it has 25 production sites employing more than one million people. "Factories in India will scale up to China levels over time and will entail greater investment and the need to hire more people, in line with the aims of the 'Make in India' programme," the report says.
Plans are afoot to make India a manufacturing and export hub, which would drastically cut down the time and cost of exporting goods to Africa or Europe compared with China.
Industry source says Foxconn could bring some of its partner supplier units from China but is more likely to source locally to build economies of scale, thus giving the Indian manufacturing ecosystem a boost.
Has Foxconn Heaped a Lot on Its Plate?
Industry experts point out that scale is integral to Foxconn's plans, but has it bitten more than it can chew in the Indian electronics space?
Poor infrastructure, interminable turnaround time at ports, lack of uninterrupted water and power supply are some of the challenges the company is likely to face apart from the still-lingering labor-related issues in its erstwhile factories in India where ex-employees still stage protests to get back their jobs at the shuttered down factories.
Support from the central and state government is crucial as the company has indicated the need for tax incentives.
Political stability is yet another dimension that has to be factored in. One has to keep in mind that even the two wafer manufacturing fabs that were supposed to have come up this year have not yet seen the light of day.
A spokesperson for Foxconn declined to comment on specifics. "We would continue to consider investments in India if they made commercial sense," he says.
Incidentally, Foxconn is also looking to invest in Indian internet startups, small-medium enterprises and handset makers. The company will also set up an India-focused venture fund as a part of its plans to invest, incubate and partner with startups and e-commerce companies.
India Should Walk the Talk
However, according to a report in the Economic Times, Foxconn has started making and shipping its first smartphones for China's Xiaomi and American phone brand InFocus out of its new plant in Andhra Pradesh, as it takes a step forward toward making India its next manufacturing hub.
"It (manufacturing) has just started and is moving as we speak. Actually, compared to our capacities elsewhere, it is not that big a scale. In the long run, we intend to grow the facility further," Vincent WH Tong, chairman of FIH Mobile, Foxconn's phone manufacturing unit, says in the report. He declines to comment on the quantities of mobile phones being made from the factory for Xiaomi and InFocus.
"We are looking at investing into India in a significant way, but the policy to 'Make in India' needs to be quite aggressive in order for the true supply chain to come to India," he says. He was in India along with Gou on a four-day visit to multiple cities including Delhi, Mumbai and Bengaluru, meeting state officials and exploring different sites for factories.
"Purely assembly does not have the element of scale, development and engineering, and it will have a limited impact for the economy. We are looking to central and state governments alike, to put out some encouraging policies for people like us to manufacture in India," Tong adds.
Analysts says the group's Indian expansion signalled a broader shift in which Foxconn would look to move low-end manufacturing from China to India, while seeking to supply companies targeting India's domestic market, such as Chinese smartphone maker Xiaomi.
According to Ravi Gururaj, chairman of National Association of Software and Services Companies (NASSCOM), a trade association of Indian IT services companies, India could not hope for a better partner than Foxconn. "Their huge expertise will go a long way for our 'Make in India' initiative," he says.
Humane Labor Policies
However, the greatest anxiety that could trouble the labor force is Foxconn's labor practices. One would just hope that it has learnt its lesson from the suicides at its Chinese factories and on-going labor unrest in India and would have put in place better and humane processes to manage its work force.
Otherwise, it would just be a repeat of the 2006 beleaguered experiences that the company underwent in south India, industry experts noted.
Promises and perils loom large where Foxconn's harsh conditions, struggles and aspirations of Chinese migrant workers are concerned.
One has to just wait and see how they would pan out in India.
To contact the author of this article, email engineering360editors@ihs.com
Related link: