Shipments of bare metal Ethernet switches, a technology that decouples hardware from software in order to offer cost savings in data centers, are forecast to rise some 198 percent to represent nearly a quarter of all data center ports shipped by 2019, according to new research from IHS Inc.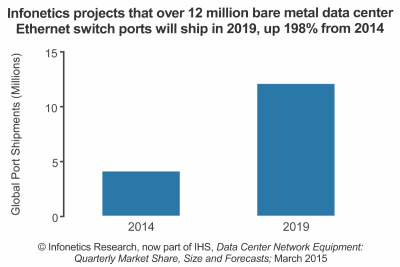 IHS forecasts the market for bare metal data center Ethernet switch ports to rise to 12 million units by 2019.IHS forecasts that more than 12 million bare metal data center Ethernet switch ports will be shipped by 2019, up from just under 5 million in 2014.. As a result, bare metal switches will represent about 25 percent of all data center ports shipped globally in 2019, up from just 11 percent in 2014.
Cliff Grossner, directing analyst for data center, cloud and SDN at Infonetics Research, now part of IHS, said in a statement that bare metal switching is attractive to large cloud service providers (CSPs) such as Google and Amazon because they provide their own switch software integrated into a data center. However, with vendors such as Dell and HP embracing the technology "adoption of bare metal switching is going to accelerate as Tier 2 CSPs and large enterprises endeavor to achieve the nimbleness demonstrated by Google," Grossner said.
IHS also found that:
Global data center network equipment revenue grew 8 percent in 2014 to $11.2 billion.
The data center Ethernet switch market grew 5 percent in the fourth quarter of 2014.
The ADC segment of data center networks has rose for seven straight quarters.
Data center growth is expected to slow by 2019—after four years of double-digit growth—as a result of the migration to software-defined networking (SDN) and shifts to the cloud.
Questions or comments on this story? Contact peter.brown@globalspec.com
Related links:
IHS Data Centers, Cloud & IT Infrastructure
News articles: