Cicoil's Flexx-Sil flat cable assemblies target pods, thermographic camera and infrared sight systems often used in multi-role fighter aircraft, attack helicopters and maritime surveillance vessels where performance is critical.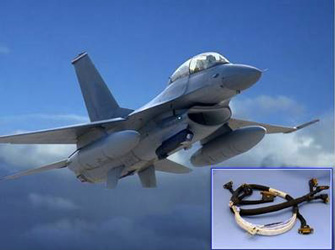 Durable flat cable assemblies are designed for use in targeting pods, thermographic camera and infrared sight systems. The compact flat cable solutions provide electrical characteristics, space and weight savings, EMI/RFI suppression, flexibility and are suited to mission-critical applications.
The assemblies are encapsulated in a shock absorbing jacket, rendering them unaffected by repeated exposure to severe vibration, G-Forces, flames (UL 94V-0), ice, fog, ozone, steam, humidity, extreme temperatures (-65 °C to 260°C), harsh weather, salt corrosion, operational stress, chemicals and the rigors of turbulent flight. Each cable incorporates a variety of components including power conductors, controlled impedance pairs, shielded control wires, video conductors, multi-layer shielding options and the company's StripMount fastening strip. The single condensed cable design controls inner component spacing, jacket thickness and overall cable shape.
The crystal-clear Flexx-Sil encapsulation does not require external sheathing or conduit for protection. It is also tear-resistant and will not deform or wear during a lifetime of more than 10 million cycles, even under tight bending radius and high speed flexing conditions. The jacket is "self-healing" from small punctures and cable jacket damage is repairable in the field.
Cables are available in continuous lengths, break-outs, custom shapes for tight spaces, cut to order, or as assemblies, complete with a choice of connectors, 100% tested and inspected for peak electrical performance, quality and reliability.
To contact the author of this article, email engineering360editors@ihs.com
Related Links: