Discrete and Process Automation
Choosing the right cable for industrial automation
29 October 2019
Sponsored content
As industrial automation equipment becomes more complex with the integration of industrial internet of things (IIoT) capabilities and an increased use of robotics and artificial intelligence, any downtime resulting from the use of poor or unreliable cables will be disruptive and expensive.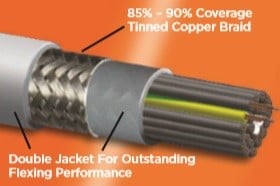 Figure 1: The rolling flex option of a continuous flex cable from Alpha Wire. Source: Alpha WireCables are used for a wide range of applications in industrial automation, including power distribution for production lines, automated machinery, safety systems and data communications. High-quality industrial cables help to mitigate risks to automation by providing the following advantages:
· Increased productivity and efficiency
· Small, flexible cabling for easy installation and constrained footprint
· Resistance to chemical exposure, washdown environments, temperature and other challenging operating conditions
Choosing the wrong cable for industrial automation could result in cable failure, causing a disruption in the manufacturing process.
Cable failures
Common causes of cable failure include corkscrewing, loss of continuity, jacket degradation, jacket abrasion and shield degradation.
Corkscrewing happens when repetitive motion alters the shape of the cable from straight to undulated, resembling a corkscrew. The shifting or migration of the conductors from their original positions displaces other elements and results in the corkscrew appearance.
In other circumstances, this continuous motion may cause industrial cables to crack when the cable is exposed to chemicals or oils, or it cannot withstand temperatures. Loss of continuity in cables happens when the insulated conductor inside the cable becomes twisted with an incorrect pitch length or pitch direction, resulting in a cable that is unable to handle a mechanical load, causing it to break under the tensile load. This loss can also happen when the cable uses conductors that are not finely stranded enough for the flexing application.
Jacket abrasion occurs when continuous use causes the outer jacket of the cable to wear through to expose the conductors or shielding. Shield failure, or increased electromagnetic interference, occurs when continuous bending breaks and abrades a cable, disrupting signals from the electromagnetic fields.
Not all cables are created equal
Three main types of cable are common in industrial automation: static, flexible and continuous flex. Static cables are used where little to no movement is required. These cables will, however, break and strain easily if subjected to continuous movement. name="_Hlk18999954">Flexible cables bend easily but are not necessarily designed for repetitive flexing applications in industrial processes.
Continuous flex cables are specifically designed for motion and are tested for flexible lifecycle ratings. They are also specifically designed to operate inside cable carrier applications on automated or moving machinery.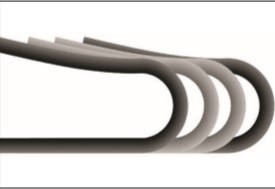 Figure 2: Rolling flex option of a continuous flex cable from Alpha Wire. Source: Alpha WireThese cables have multiple options, such as torsion, which involves a twisting motion; bending flex, which operates in a tick-tock motion; and rolling flex, which is in a C-track configuration. A combination of all kinds of motion is also possible.
Continuous flex cables may feature a high tensile strength center element or solid fillers to protect conductors from migrating to the center of the cable. The diameter of copper stranding in continuous flex cable is medium to fine, rather than rough, to improve flexibility. Individual conductors are layered into as many concentric layers as necessary. The inner jacket ensures the insulated conductors are efficiently guided and maintains the integrity of the cable core. The shield design of continuous flexible cables features a braid angle designed to prevent the shield strands from breaking over the linear axis and increasing torsional stability.
Continuous flex cables from Alpha Wire meet the needs of industrial manufacturers in terms of life cycle, bend radius and maximum speed or acceleration. They can also withstand the harsh conditions on the factory floor. Alpha Wire works with vendors to meet their cable needs for each specific use case.
Questions to ask about continuous flex applications
To select the best continuous flexible cables, customers should ask a number of questions to determine what characteristics they need.
What bend radius is required? A tight bend radius may impact other selection criteria. If used inside a cable carrier system, two bend radii need to be compatible. Bend radius also comes into play for high speed or high acceleration applications. The larger the bend radius, the more it can prevent damage or failure in applications.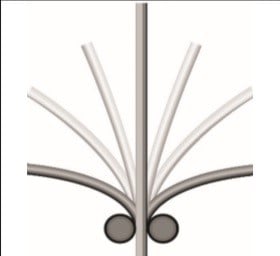 Figure 3: The bending flex option of a continuous flex cable from Alpha Wire. Source: Alpha Wire
What maximum speed or acceleration do they require? Cables with minimized mass are recommended for high acceleration applications.
How many cycles will the cable be subjected to per day? Will a cable need to be flexed 20 cycles per day? Per minute? Per month? How many operational days will the cable be needed?
The Alpha Wire advantage
Alpha Wire, a designer and manufacturer of continuous flex cables, offers a variety of cable solutions.
The XG Flex brand is one of the highest quality flexing cables on the market, with an enhanced round geometry to ensure liquid-tight installation where ingress protection is required. Additionally, Alpha Wire's continuous flex cables are abrasion, oil and chemical resistant and meet the NFPA Standard 79 for industrial machinery.
The XG Flex Cables allow manufacturers to reduce their total cost through reduced cable maintenance and improved system efficiency.
Conclusion
As the factory becomes more intelligent, more efficient and more profitable with the adoption of new technologies, such as artificial intelligence and the IIoT, cables are a vital asset to ensure these technologies perform as required.
Find Free Electronics Datasheets