Emphasizing its focus on home automation, the Thread Group has selected Elarm and Amatis Controls in a tie as Q2 winners to partake in the group's Innovation Enabler Program.
The prize is not just one year's free membership at contributor level of the Thread Group worth $15,000, but they also get a seat at a table near the likes of Qualcomm, Samsung, NXP/Freescale, ARM and Silicon Labs. In addition, they will get help implementing their ideas, while also having input as to how the connected home evolves—with Thread.
The Thread Protocol was released last month and is the first widely supported IP-based, low-power, wireless mesh protocol that can run across Wi-Fi, ZigBee and Bluetooth networks—all of which are already widely deployed in home automation applications.
Amatis products make buildings smarter and more efficient. Image Credit: Amatis.comThe Innovation Enabler Program started in January of this year to help cash-strapped startups. Sujata Neidig, vice president of marketing for the Thread Group says, "In the Internet of Things space there are so many new ideas and startups, with people leaving large OEMs and starting something new, but for a startup, $15,000 [to join the Thread Group at the contributor level] is more than they can invest." The Innovation Enabler Program, "is a way to reach out and have them engage and be part of the group."
Ubiant was the Q1 winner, but for Q2, the judges had a hard time picking a single winner. There were two main criterias: relevance to the connected home and the novelty of the idea. "We wanted there be a plan, not just an idea," she says.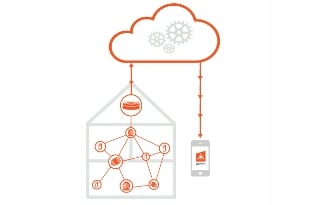 Elarm gives your home a voice so you can make informed decisions. Our technology applications ensure that each sensor is working and your notifications are timely, accurate and useful. Image credit: Elarm.comElarm won because, "It provided the entire solution with the entire Thread network from end node to gateway to cloud management." While Amatis is already in fleet management and commercial applications, Neidig pointed to its movement into the home automation arena too.
To contact the author of this article, email engineering360editors@ihs.com