Software defined networking (SDN) solutions provider Fiber Mountain, Inc. has announced that its Optical Path Exchange (OPX) has achieved five-nanosecond data center network latency—a potential 100x latency improvement over industry standard SDN switches.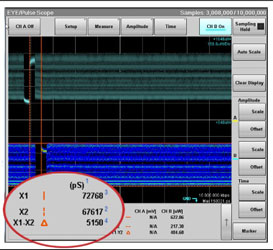 Reducing network latency by 100x is called a game changer by Fiber MountainComprehensive testing using Anritsu's BERTWave MP2100A, capable of measuring and calibrating the fastest optical networking devices, show that the company's OPX consistently achieved speeds at or near five nanoseconds of latency.
The AP-4240 OPX is the industry's highest density active optical cross-connect that provides SDN controlled point to point, optical TAP and point to multipoint applications for 160 ports in a compact 1RU form factor. The OPX technology is an integral part of Fiber Mountain's Glass Core architecture. It also enables the creation of Programmable Light Paths™ (PLP™) to directly interconnect servers, storage, 4K video and network monitoring / security systems.
"A key ingredient in our Glass Core architecture, the OPX's ability to process network traffic at these speeds is a potential game changer," says Fiber Mountain CEO, M.H. Raza. "Compared to current industry standards, this level of latency reduction can have a huge impact for environments such as high performance computing and high frequency trading—where nanoseconds can correlate directly to dollars."
The AP-4240 OPX has on-board optics, reducing the complexity and cost of installing external SFP+ and QSFP+ pluggable transceivers. The product is available for use with the Fiber Mountain Alpine Orchestration System (AOS)™ SDN controller, third party SDN controllers or in standalone applications. Fiber Mountain is calling the technology a potential game changer.
Related Links: