It appears as if the domination by liquid crystal displays (LCDs) in the mobile phone market is coming to a close as organic light-emitting diode (OLED) displays will overtake LCDs in smartphones by 2020, according to IHS Markit.
Active matrix OLEDs (AMOLEDs) with a low temperature polysilicon (LTPS) backplane will make up more than one-third of all smartphone displays by 2020, supplanting LCD displays as the most-used displays for smartphones, IHS says.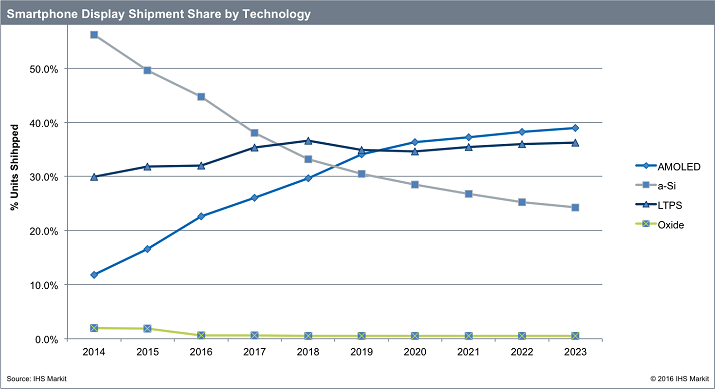 OLED display shipments will reach parity with LTPS LCDs by 2019, but will overtake those displays the following year. Source: IHS Markit David Hsieh, senior director at IHS, says with OLEDs garnering the attention of Apple Inc. and all signs pointing to the company implementing the technology in its latest iPhone incarnation, this will be the push the technology needs to become the dominant display in the market. This will happen despite OLEDs being more difficult to manufacture, using more complicated materials and chemical processes.
The other leading smartphone vendor, Samsung, has already adopted OLED displays in its smartphone models, and IHS believes other smartphone vendors will soon be joining Samsung. However "Apple's upcoming adoption of OLED displays will be a milestone for OLED in the display industry," Hsieh says.
As a result of this increased demand for OLEDs, display manufacturers such as Samsung Display, LG Display, Sharp, JDI, BOE, Tianma, GVO, Truly and CSOT are ramping up manufacturing capacities and devoting more resources to OLED technology development.
"Many display manufacturers were investing in LTPS LCD, thinking it would overtake a-Si technology," Hsieh says. "However, many of the fabs under construction, especially in China, have had to change their plans to add OLED evaporation and encapsulation tools, because OLED penetration has been more rapid than previously expected."
To contact the author of this article, email engineering360editors@ihs.com