There is a new community, spearheaded by IBM, that is poised to provide winning recipes to developers so that they can quickly and easily master Internet of Things (IoT) cloud connectivity and data use.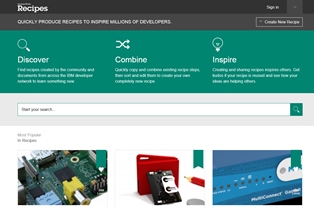 IBM developerWorks Recipes. Source: IBMDubbed IBM developerWorks Recipes, the community is designed for novice to experienced designers, allowing them to tap into IBM's platform-as-a-service, Bluemix, to implement step-by-step tutorials for embedding advanced analytics and machine learning into IoT devices and applications.
Examples include:
Understanding vehicle performance by analyzing data from its On-Board Diagnostic system.
Linking real-time machine condition monitoring with IBM asset management to monitor everything from the health of household appliances to wheels on a railroad car.
Spotting trends and obtaining solutions to common problems through graphical representation of historical and real-time data from IoT devices.
IBM Bluemix, launched in 2014 with a $1 billion investment, currently has more than 100 open-source tools and services; users can run advanced analytics, utilize machine learning and tap into additional Bluemix services.
"IBM has long been a leader in offering innovative tools for developers to create the applications of our future. Now, IBM is expanding that focus so anyone—from the software novice to the experienced hardware engineer—can easily and quickly access materials providing guidance in the creation, management and connection of IoT devices to each other and the cloud," says Christopher O'Connor, general manager, Offerings, Internet of Things, at IBM. "With developerWorks Recipes, IBM provides easy access to new analytics and operational insight capabilities that tap into the vast data from many connected devices, home appliances or cars."
Response from the IoT ecosystem taking advantage of the new IoT community from IBM includes:
"For years, companies have been building their machine-to-machine and IoT applications essentially from scratch. IBM developerWorks Recipes enables companies to leverage the hard lessons learned by other developers in order to simplify the process—a goal which MultiTech has been committed for more than 40 years," says Daniel Quant, vice president of Product Management, MultiTech Systems. "IBM is helping to enable us and our customers to connect devices quickly and with security features to the IBM Cloud—with the ultimate goal of transforming our business processes and efficiencies."
"Developers just can't be experts on each new 'thing' that gets added to the IoT," says Jone Rasmussen, general manager of IoT developer tool startup Bitreactive. "To control costs of IoT projects, developers need easy, repeatable ways to quickly extract data from devices. IBM developerWorks Recipes is the perfect platform to do just that. It brings the embedded and cloud developer communities together in one place. Any cloud IoT developer can now easily find and reuse our templates for producing intelligent data at the edge of the network. With developerWorks Recipes, IBM shows it understands what's needed to make developers' lives easier."
"The ecosystems around the IoT are complex and that complexity makes it more difficult for companies to get the true business benefits from IoT," says Tony Milbourn, vice president Corporate Strategy, u-blox. "To cut through this complexity, particularly in the Internet of Things that really matter, u-blox has combined its robust cellular, short-range and positioning products and solutions with IBM's deep data analytics and management capabilities in IBM Bluemix cloud platform. developerWorks Recipes brings recipes, tools and prototypes that show customers the benefits, support ease of deployment, and most importantly provide information about how to best reduce risk. The combination of IBM and u-blox is ideal for key global players in the automotive, industrial and professional markets."
To contact the author of this article, email engineering360editors@ihs.com
Related Links:
IBM developerWorks Recipes is currently open for anyone to take advantage of existing IoT content, create new content and share with the community: https://developer.ibm.com/recipes/