Networking heavyweights Cisco Systems and IBM are teaming up to bring IBM's Watson platform and Cisco's analytics capabilities to the Internet of Things (IoT).
The goal of the collaboration will be to allow businesses and organizations in remote and autonomous locations to tap into the companies' technologies in order to understand and act on critical data involving IoT in networks. IBM and Cisco say cloud computing and the ability to gather real-time data about the physical world can only be accomplished with easy access to high bandwidth connectivity. Without this, sometimes businesses are out of reach or take too long to access IoT capabilities.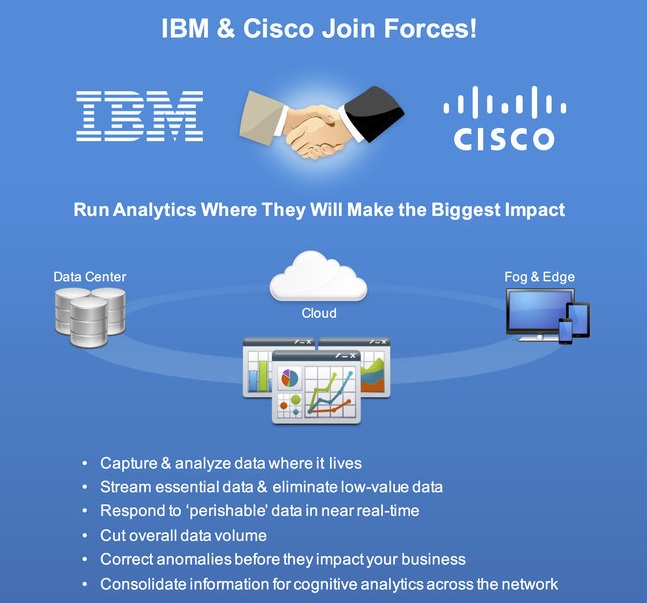 Where access to the cloud and real-time analytics are hard to muster, IBM and Cisco will enable a potentially business-changing connection to IoT tools. Source: IBM and CiscoThe companies are working to target companies operating on the edge of computer networks, such as oil rigs, factories, shipping companies and mines, where time is of the essence but bandwidth is often lacking.
"For an oil rig in a remote location or a factory where critical decisions have to be taken immediately, uploading all data to the cloud is not always the best option," says Harriet Green, GM of IBM Watson IoT, Commerce and Education. "By coming together, IBM and Cisco are taking these powerful IoT technologies the last mile, extending Watson IoT from the cloud to the edge of computer networks, helping to make these strong analytics capabilities available virtually everywhere, always."
The combination of technologies will allow workers in remote environments to be better able to monitor the health and behavior of machinery or plan for needed maintenance and upgrades. IBM and Cisco say by using their technologies, companies can use the latest approaches to condition-based maintenance, possibly reducing costs by up to 50% and increasing productivity by 25%.
The two companies are already putting their partnership to the test by working with Bell Canada, the largest telecom company in Canada, to deliver 4G LTE connectivity throughout the country regardless of the location of the business.
They are also working with Columbia's Port of Cartagena, a modern container terminal in the Caribbean, to improve the port's efficiency of assets, including rubber tire gantries, cranes and trucks. Using the Watson IoT Platform and Cisco Edge analytics, the port is expanding its monitoring of equipment conditions such as engine temperature, engine speed and run hours to improve maintenance costs.
High-speed racing watercraft maker SilverHook Powerboats is using Cisco and IBM to help pilots react to environmental and engine multivariate conditions in real-time, allowing racers to throttle back in seconds to prevent boat failure. Without this insight, it could prove disastrous to both the boat and those inside.
To contact the author of this article, email engineering360editors@ihs.com