As broadband has become increasingly prevalent in households throughout the world and Wi-Fi has penetrated an ever wider range of devices, the home network has become common place in consumers' homes, driven by the ease of set-up and the growing demand for Internet connectivity within a range of consumer electronic devices.
According to Lisa Arrowsmith, associate director, connectivity, smart homes & smart cities at IHS Technology, "the next phase of this evolution is being driven by IPTV and multi-room DVR solutions, creating new challenges – and opportunities – for a wide range of stakeholders, including IC vendors, CPE manufacturers and service providers."
This trend is expected to become even more widespread over the next five years, as multi-room and IP television services increase in popularity. In conjunction with this, the 802.11 standard will see a move from 802.11n to 802.11ac, which promises greater bandwidth and better range.
The Cisco DPC3848V Wireless Residential Gateway is a home and small office gateway aimed at this market and combines a cable modem, router and wireless access points in a single device. The device provides a faster connection to the Internet by incorporating 24 bonded downstream channels along with eight bonded upstream channels. Bonded channels can deliver downstream data rates of up to 900 Mbps and upstream data rates up to 170 Mbps.
Summary points:
Cisco DOCSIS 3.0 Residential Wireless Gateway
24x8 Channel Bonding
3x3 MIMO Dual Band WiFi (802.11ac/a/b/g/n)
Intel Puma 6 Media Gateway SoC
No voice telephony functionality
Target market: Cable Service Providers
Pricing: N/A
Availability: North America
Total cost (direct materials and manufacturing): $76.52
Major Components:
- Media Gateway SoC, Intel Puma 6, Atom Core – Mfg: Intel Corp. - MPN: DHCE2652SR1HM - (Qty: 1)
- WLAN, IEEE802.11ac/a/b/g/n, 3x3 MIMO – Mfg: Qualcomm Atheros Inc. - MPN: QCA9880-BR4A - (Qty: 1)
- 4-Layer, FR4, Lead-Free – mfg: T-Mac Techvest PCB Co. Ltd. - (Qty: 1)
- Switching Power Supply, 45W, Output: 15V / 3A – mfg; Pegatron Corp. - MPN: UPM45 - (Qty: 1)
- SDRAM, DDR3L-1600, 2Gb, 1.35V – Mfg: Micron Technology Inc. - MPN: MT41K128M16JT-125:K - (Qty: 2)
- Front-End, 24-Channel DOCSIS 3.0, Full-Spectrum Capture Receiver, Integrated LNA, 40nm CMOS – Mfg: Maxlinear Inc. - MPN: MXL267 - (Qty: 1)
- Gigabit Ethernet Switch, 7-Port, w/ Integrated 5 GE PHYs, GMII, RGMII, & EEE – Mfg: Marvell Semiconductor Inc. - MPN: 88E6172-TFJ2 - (Qty: 1)
- Ethernet Magnetics Module, Dual-Port, 1000BASE-T – Mfg: Bothhand USA - MPN: GS5014 LF - (Qty: 2)
- WLAN, IEEE802.11b/g/n, 3x3 MIMO – Mfg: Qualcomm Atheros Inc. - MPN: AR9381-AR1A - (Qty: 1)
- Flash, NAND, 1Gb, SLC – Mfg: Toshiba Semiconductor - MPN: TC58NVG0S3HTA00 - (Qty: 1)
- Bluetooth/NFC/WLAN, SoC, IEEE802.11a/b/g/n/ac, 2x2 MIMO, Bluetooth V4.0+HS, NFC – Mfg: Marvell Semiconductor Inc. – MPN: 88W8897-NMJ2 – (Qty: 1)
- AC adapter, 12 V, 3.33 A, 40 W, w/ 6 ft cord, Velcro® strap – Mfg: Chicony Power Technology Co. Ltd. – MPN: AA-PA3N40W – (Qty: 1)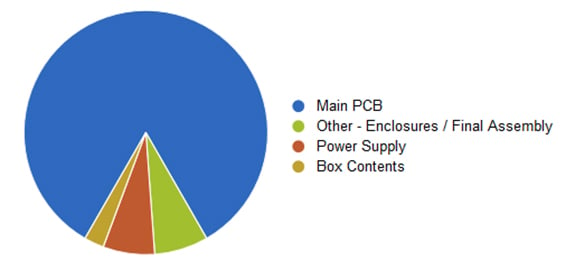 Source: IHS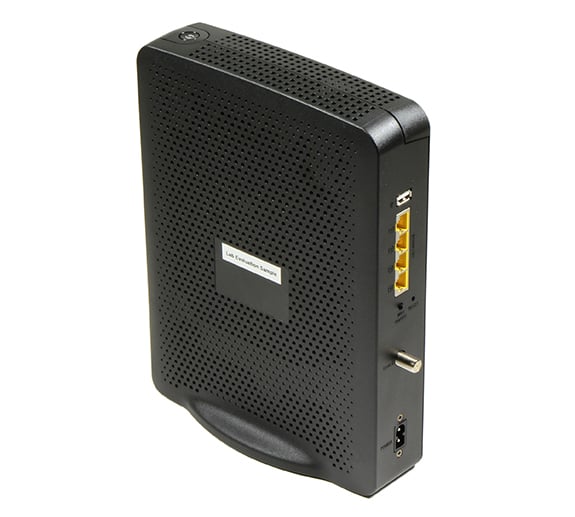 Device Overview.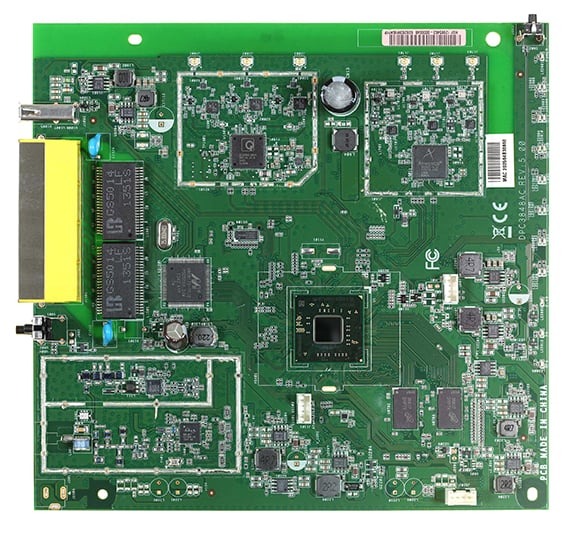 Main PCB Top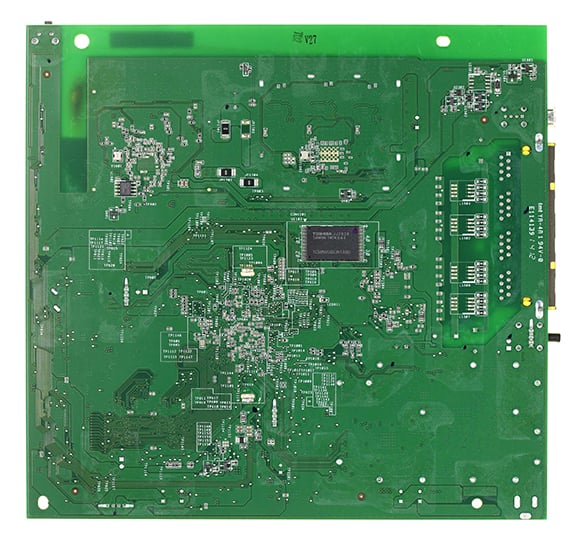 Main PCB Bottom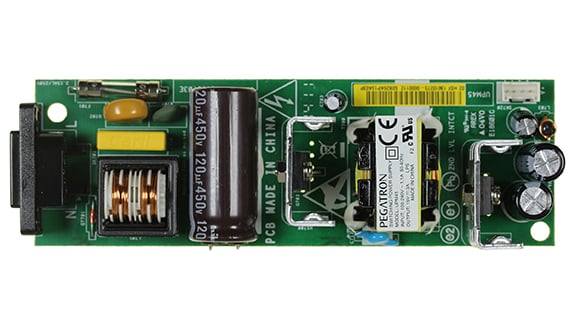 Power Supply Top