Thanks to its inclusion in the Apple Watch, as well as the Samsung Galaxy S6 and S6 Edge, consumers who say they are aware of wireless charging technology have more than doubled in the past 12 months, according to a recent IHS consumer survey.
In 2014, some 36% of consumers stated that they had heard of wireless charging technology. However, in the past 12 months consumer awareness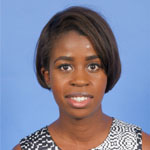 Vicky Yussuff, analyst for wireless power, IHS.has grown to 76% in the U.S., the U.K. and China, the survey says.
Vicky Yussuff, analyst for wireless power at IHS, calls 2015 a "breakthrough year for wireless charging" as a substantial majority of consumers are now aware of the technology. Yussuff says the adoption of wireless charging by Samsung, Apple and other high-profile volume manufacturers was a
key factor, along with growing recognition of the wireless charging infrastructure available in the public sector.
IHS forecasts that shipments of wireless power receivers in mobile phone handsets will exceed 120 million units this year. That number is being boosted by sales of the Samsung Galaxy S6 and S6 Edge. In the wearables market, meanwhile, wireless charging shipments are forecast to rise to more than 20 million units in 2015 on the back of the Apple Watch. IHS says that device will take a dominant share of more than 70% of total revenue in wireless charging for wearables.
In terms of revenue, IHS forecasts that growth for wireless technology will surpass the $400 million mark this year and $1 billion in 2019.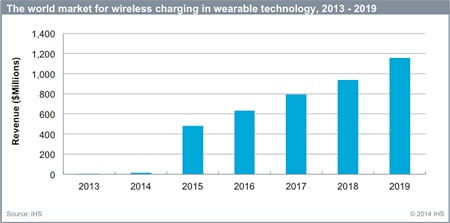 IHS forecasts that the market for wireless charging will surpass $1 billion by 2019. Image source: IHSOther companies that have recently included wireless charging technology in their devices include LG with its G4, the Verizon edition of the Sony Xperia, the recent BMW 7 series as well as other automotive announcements (see: Daimler, Qualcomm Team for Connected Cars). Recent announcements from Starbucks and McDonalds have stated their plans to roll out wireless charging stations in their stores.
Questions or comments on this story? Contact engineering360editors@ihs.com
Related links:
News articles:
New Wireless Charging Deals Push Technology Forward
Daimler, Qualcomm Team for Connected Cars
Does the Apple Watch Have a Qi Charger?
Breakthrough Year for Wireless Charging