Samsung has recently unveiled a computer monitor that features a built-in wireless charger in the base. According to David Green, Analyst at IHS Technology, "Combining a wireless charging transmitter into existing devices — especially ones which already need to be plugged into a power supply, and are used in convenient locations for charging devices — is a good step toward improving the use case for wireless charging overall."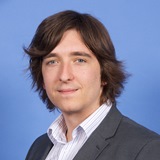 David Green, Analyst at IHS TechnologyThe Samsung monitor, says Green, also deviates from the currently more typical 'charge at home' use case. A new survey from IHS finds that 53% of all smartphone users say their work desk is the second most common location for them to charge their device — after their home. This could help wireless charging in two areas — charger cost and charging speed.
Highlights of the survey include:
Consumers indicate they would be willing to pay $22 for a standalone charger. Current chargers have a higher price tag, the Samsung Wireless Charging Pad, for example, retails at $49. By combining functionality with a second device the perceived cost drops, which could spur adoption.
On-desk charging could ease concerns over charging speed compared to the cabled alternative. The survey finds that 20% of smartphone owners that use wireless charging, name charging speed—although only 0.3% said they were unhappy with their current system.
"For the full potential of wireless charging technology to be achieved, it must be a seamless and intuitive experience for the consumer — both at home and with any other infrastructure, says Green. "An increase in adoption from non-standalone chargers will help to provide this experience. Recent product announcements show the direction of the industry in 2015: IKEA launched a range of lamps and bedside tables with integrated charger; BMW 7 Series and Audi A4 joined the likes of the Toyota Camry with an in-cabin wireless charging pad; and McDonalds and Starbucks continue to roll out wireless charging transmitters into sites across the U.S., and U.K."
IHS expects further announcements of wireless charging enabled products through the rest of 2015 and beyond, as manufacturers continue to build the eco-system for wireless charging and the accessory market looks to capitalize on the rise of enabled devices.
To contact the author of this article, email engineering360editors@ihs.com
Related link:
https://technology.ihs.com/Biographies/463293/david-green