Daimler AG, maker of Mercedes-Benz automobiles, has announced a strategic collaboration with fabless chip company Qualcomm Inc. focused on producing innovations for "connected cars."
The companies say they will initially focus on improving the user experience within the car with the additional technologies such as 3G/4G connectivity, wireless charging for personal electronics equipment inside the car and wireless electric charging of the vehicle itself. This is described as phase one of the collaboration, although the pair does not indicate what is included in any subsequent phases or give any timeframe for future work.
Standards are expected to start coalescing around short-range communications between vehicles and roadside infrastructure. This would allow a communications halo around a vehicle to provide for collision avoidance and mitigation, and for ad hoc networks of vehicles to form to share information for the benefit of all the vehicles.
In January 2014, Qualcomm introduced a quad-core Snapdragon processor intended for automotive applications. The company announced collaboration with real-time operating system company QNX Software Systems Ltd. in a platform for in-car infotainment (see CES: QNX and Qualcomm Announce IVI Systems Powered by Snapdragon).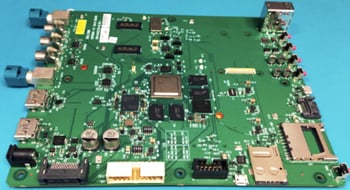 Intrinsyc Automotive Development BoardThe processor is the Snapdragon 602A, implemented in TSMC's 28nm 28LP process. It includes four ARM-compatible processor cores running at up to 1.5GHz clock frequency, an Adreno graphics processor, and a Hexagon DSP. A chipset also includes multimode 3G/4G, dual-band 802.11ac Wi-Fi and Bluetooth 4.1 and LE modems, satellite navigation support and dedicated support for gesture, facial and voice recognition. A Snapdragon Automotive Development Platform, made by Intrinsyc Technology Corp. based on the 602A, was due to start sampling in the first quarter of 2014 with support for Android and QNX operating systems.
In addition to an automotive-qualified processor, Qualcomm is offering Daimler access to its Halo Wireless Power Transfer technology for electric vehicles and WiPower technology to enable consumer electronics to be charged while in the vehicle. The Halo technology uses resonant magnetic induction to transfer energy between a ground-based pad and a charging pad on the electric vehicle.
"We are eager to jointly explore possible fields of future cooperation with an internationally leading tech firm like Qualcomm," says professor Thomas Weber, Daimler's management board member responsible for group research and Mercedes-Benz car development, in a statement.
"The automobile has become a mobile platform and an extension of always-on connectivity," says Derek Aberle, president of Qualcomm.
For Daimler, Qualcomm's market-leading position as a provider of communications technology and presence in many mobile phones and tablet computers make it an obvious choice of partner. For Qualcomm, Daimler's global reputation as a luxury car maker and early adopter of electronic solutions provides a similar motivation and can help Qualcomm move forward in automotive where it has yet to make inroads and is behind some other chip vendors. The likes of Intel and Nvidia have looked to automotive applications partly because of how Qualcomm's success in mobile devices has curtailed opportunities in that market.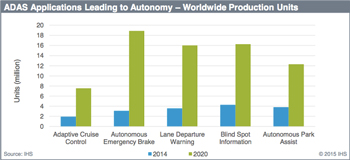 There is also a natural mobility link between personal electronics and in-car infotainment. According to a recent IHS report compiled by interviewing 4,000 prospective automobile purchasers, the level of smartphone ownership is 90%.
"Not surprisingly, these devices have wide

Colin Birdimplications for consumer behavior while driving and influence consumer expectations on how vehicles and apps should integrate with them," says Colin Bird, a senior analyst for automotive software, apps and services at IHS Tehcnology.
Qualcomm would like to gain ground in infotainment while breaking into vehicle safety—applications that have typically gone to automotive microcontroller vendors such as Renesas, Infineon, STMicroelectronics and Freescale. These are the top four suppliers of automotive semiconductors in 2014, a ranking in which Qualcomm did not make the top ten (see Renesas Retains Top Spot in Automotive Chip Vendor Ranking).
The building blocks of automotive autonomy—such things as automotive cruise control, autonomous emergency braking, lane departure warning blind-spot information and autonomous parking—are set to enjoy strong growth over the next five years, according to Jeremy Carlson, senior analyst for autonomous driving at IHS Technology.
David Green, IHS research manager for power supplies and wireless power, says the focus of the Daimler-Qualcomm partnership appears to be on wireless charging. IHS estimates that 57,000 wireless-charging equipped vehicles were sold globally in 2014, but forecasts to exceed 17.5 million vehicles in 2020.
In a recent note, Green observes that five of the top 10 automobile makers—including the top three—have shown intent toward wireless

David Greencharging technology in recent months. Toyota has announced that a Camry Special Edition vehicle will come fitted with a Qi-standard wireless charging pad.
"It's interesting to see that both volume selling brands such as Toyota and Ford are pursuing this technology at the same time as more premium brands such as Daimler/Mercedes-Benz," Green observes.
Questions or comments on this story? Contact: peter.clarke@ihs.com
Related links and articles:
IHS automotive technology service
Wireless Power Intelligence Service
IHS insight on Daimer-Qualcomm partnership
News articles: