Smartphone manufacturers have begun designing in wireless charging reception, thereby driving the market for wireless charging transmitters. However, the market continues to be fragmented with multiple technologies, standards and proprietary solutions competing and potentially spreading confusion, says David Green, research manager for power supplies and wireless power at IHS Technology.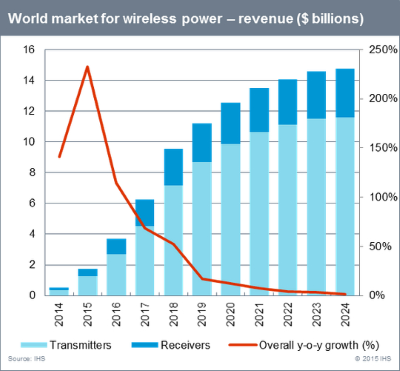 World market for wireless power ($ billions). Source: IHS TechnologyGreen says tightly coupled inductive wireless charging is being deployed first, but that magnetic resonantly coupled charging could provide a more convenient, less spatially constrained regime. He explains that some of the long-range energy transfer technologies could be even more convenient, but appear to be years away from commercial deployment and may suffer from a lack of first mover advantage.
The annual market for wireless power transmitters and receivers will be worth more than $1.7 billion in 2015, more than three times the previous year's value, according to IHS. The market is expected to move from 55 million units shipped in 2014 to more than 2 billion units in 2024.
Shipments of wireless power receivers in mobile phone handsets will exceed 120 million units in 2015, boosted by the Samsung Galaxy S6 and Galaxy S6 Edge and the Apple Watch (which includes a proprietary wireless charging system that is expected to drive wireless power receivers to more than 20 million units in wearable equipment in 2015).
However, for now it is a case of leading brands pushing the technology—usually tightly coupled inductive charging—towards consumers who do not know they want it. Some 63% of consumers did not know about or understand wireless charging, according to an IHS consumer survey conducted in 2014.
To avoid negative customer experiences, there needs to be stronger focus on interoperability between competing certification standards of the Wireless Power Consortium's (WPC's) Qi standard, the Power Matters Alliance (PMA) and the Alliance for Wireless Power's (A4WP's) Rezence standard, Green says in a statement.
IHS predicts that shipments of tightly coupled solutions will not be overtaken by loosely coupled solutions until 2019 although multi-mode receivers will comprise 30%of the market by 2018.
There are several alternative technologies being developed by such companies as Energous Corp. (San Jose, Calif.), which uses the 5.7 to 5.8 Gigahertz (GHz) ISM band to transfer energy; uBeam Inc. (Los Angeles, Calif.), which uses ultrasound; and Wi-Charge Ltd. (Rehovot, Israel), which uses near infrared light.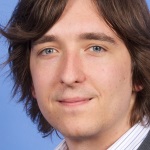 David Green
"It comes down to usability. You have to get buy-in from a big company; a design win. And that's a long way off for uncoupled technology," Green tells Electronics360. "As soon as you remove the [charging] wire you lose efficiency, but some of the inductive tightly coupled solutions are approaching 95%. Can remote charging solutions achieve anything like that? Efficiency is important but not as important as convenience and cost. I don't see remote charging coming to market for a couple of years at least."
Green says it appears dual mode charging will be the most popular short-term solution. "Beyond that, all eyes are on new product announcements this year—potentially including the Intel Rezence solution—as we continue to see the biggest year ever for the wireless power industry."
Questions or comments on this story? Contact: peter.clarke@globalspec.com
Related links and articles:
IHS Emerging Power & Energy Technologies
Related links and articles: