A sea change is taking place in the flat-panel display (FPD) industry, as vendors focus their efforts on area-demand growth rather than unit growth, according to a new report from IHS Technology.
Total display area demand is expected to grow at a compound annual growth rate (CAGR) of 5 percent from 2012 to reach 223.6 million square meters in 2020, as shown in Figure 1. In 2014, display panel shipments for all applications grew 9 percent to reach 168.9 million square meters. This year, annual area growth demand will still increase but will fall to a 5 percent increase due to the maturity of some FPD applications, IHS said.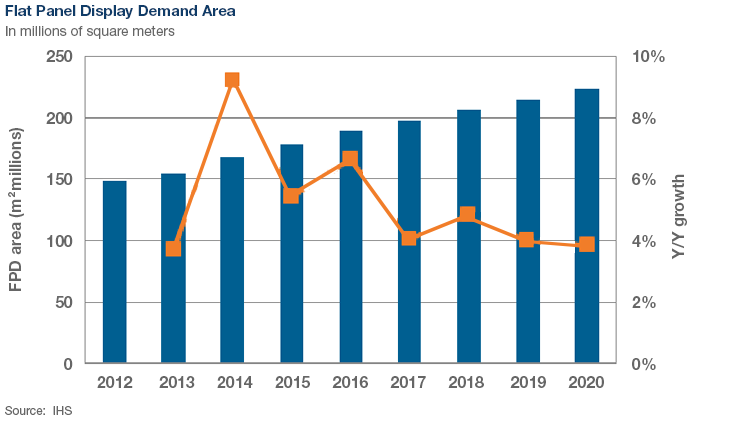 IHS forecasts area growth demand to rise 5 percent in 2015 as vendors continue to focus on bigger screens.
Yoshio Tamura, director of display research at IHS Technology, said in a statement that there were four major driving forces in 2014 leading to a strong upgrade of the average FPD display sizes including "consumer demand for larger LCD TVs, soaring demand for 5-inch and larger smartphones, larger automotive display screens and larger tablet PCs."
Tamura added that the new TV sizes launched by LCD and organic light emitting diode (OLED) panel makers give consumers "more chances to trade up to larger sizes" and in the smartphone market bigger screens have become popular with "higher resolution requirements, longer battery life and shifts in user behavior."
Other reasons for the trend in FPD area-growth include new operating systems and convertible form factors that are enabling displays in the mobile PC market to grow from 10 inches to 12.9 inches in 2015, IHS said. As a result, Apple, HP, Lenovo, Acer, ASUS and other mobile PC brands have begun to launch products with larger screens.
IHS noted other reasons for increased total FPD area base including:
Rising demand for 4K, 8K and ultra-slim televisions.
Commercial and educational market demanding higher resolutions in mobile PCs.
Higher resolution requirements in smartphones.
Demand from automotive consumers for larger and more advanced LCDs in vehicles.
Questions or comments on this story? Contact dylan.mcgrath@ihs.com
Related links:
Quarterly Worldwide FPD Shipments and Forecast
News articles:
LCD TV Market Back To Sustainable Growth
Ultra-high Definition TV Sales Grow Slowly
Global TV Market Contracts in 2013 for Second Straight Year
Top Digital Signage Trends for 2015