As Google and Apple duke it out in the mobile space, competing for the hearts and minds of consumers, there's another battle going on – this one inside vehicles where the same two giants hope to wrest away the user experience from the auto makers themselves.
If Google has its way, car owners will see Google Projected Mode piping Android functionality from a phone or tablet to the auto's own infotainment system of displays, buttons, speakers, and touchscreens – much in the same way that Apple is hoping to implant its iOS platform via its CarPlay system.
But car makers won't be relinquishing their infotainment branding that easily to the two major formats of phone projection solutions for automotive, says Mark C. Boyadjis, senior analyst and manager, infotainment and usability, at IHS automotive. Instead, they want car owners to equate their good user experiences with the car brand – not a Silicon Valley tech firm -- in order to sell more cars.
"Auto makers have put a lot of R&D money these last 5-7 years into productizing their own connected brands -- like Chevrolet's MyLink, Cadillac's Cue, Ford Sync, Toyota's Entune, Jaguar's InControl, and so on – hoping to create product loyalty or brand recognition," he says. "Then along come Google and Apple hoping to steal that experience just the way they do with everything else they create. Do you think the OEMs will allow that? Not very likely."
Regardless, in January, Google announced its Open Automotive Alliance (OAA), a consortium consisting of Google, GM, Audi, Honda, Hyundai, and Nvidia, whose goal it is "to bring Android to the open road," according to a press release. Similarly, Apple has announced that its CarPlay platform will be available this year in Ferraris, Hondas, Hyundais, Mercedes, and Volvos.
While CarPlay isn't expected to be available at dealerships until year-end, three IHS YouTube videos showing the platform installed in a Hyundai, a Volvo, and a Mercedes "demonstrate very clearly how Apple-centric the integration is, giving drivers the same look and feel as if they were using their iPhones in the car," says Boyadjis. CarPlay's functionality depends mostly on software plus a small chipset added to the infotainment system. Google Projected Mode is essentially built the same way, but hasn't yet been shown to the public. Its launch may be 8-12 months behind Carplay's, according to Boyadjis.
Neither Google nor Apple would provide a spokesperson for this article.
"All this activity stems from the connected lifestyle of consumers and their interest in staying connected to their favorite ecosystem, be it iOS, Android, or even Microsoft," Boyadjis adds. "No one wants their commute, regardless how long it is, taking place in a disconnect zone."
So who is going to control that user experience?
At last year's Connected Car Expo in Los Angeles, Jim Farley, Ford's executive VP, said in his keynote that "the solution for the connected car lies more in his hands" -- and he pointed to Tarun Bhatnagar, director of Google Maps -- "than in the automaker's hands."
Nevertheless, auto makers are hell-bent on maintaining their differentiation while developing connected solutions collaboratively with the tech firms – and they have spent the last seven years trying to extend the olive branch to Silicon Valley by co-locating with local R&D development facilities.
"Unfortunately, the tech companies don't have in their product mindset the specific requirements and the subtleties around automotive systems," says Boyadjis. "There isn't much concern for device compatibility, which is a huge issue, they aren't fully integrated yet with the Federal Motor Vehicle Safety Standards (FMVSS), and there's not a whole lot of sharing of best practices with the auto makers. There have been user experience developments in the consumer electronics space for many years – why can't some of those best practices be shared with automotive?"
In his Connected Car Expo presentation, Bhatnagar acknowledged that four moves would help the consumer electronics industry better understand and better integrate with the auto industry:
Enabling differentiation. If differentiation disappears in the interest of compatibility, auto makers will have little left to market to car buyers.
Addressing safety. Although much of a smartphone's use will exist outside of a vehicle, its activity inside the car shouldn't ignore the inherent safety-critical considerations of the automotive environment.
Designing for seamless integration. While battles between content ecosystems continue outside the vehicle, one shouldn't be forced into one car brand over another simply because of their affiliations and content subscriptions outside the vehicle.
Sharing user experience best practices. This doesn't mean making all systems into one, but rather sharing research data on font size, contrast levels, cognitive testing, haptics, system redundancies, and more.
Harman is a company that's smack in the middle between the auto makers and the phone platform companies; it builds a "next-generation scalable in-vehicle infotainment platform" that, it says, offers rapid development of connected car apps while protecting the integrity of the system against cybersecurity threats.
"As the bridge between Silicon Valley and automotive, what we see is the OEM still being a key part of the infotainment innovation simply because certain innovation has to be related to the car itself," says Kelei Shen, senior VP of global innovation and development at Harman International. "Regardless of who is the designer of the unique user experience – Google or Apple or Harman – many auto makers will still want to have control of the human-machine interface (HMI) and the car features definition -- not only for the unique identity of the cars, but also the liability of certain safety requirements."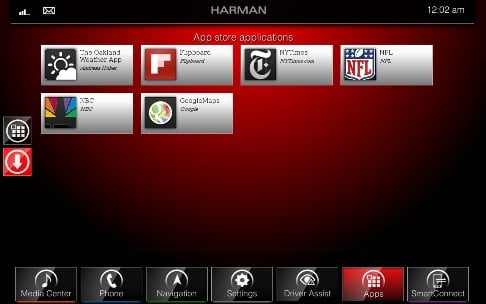 Harman International's automotive app store screen. (Photo courtesy of Harman International)
Two of the biggest hurdles Harman is facing are the need to "speed up its innovation cycle to match Silicon Valley's while having the disciplines to ensure automotive quality," says Shen. "In order to meet both 'fast innovation' and 'automotive grade,' we have to partition development as well as systems in these two different domains."
While one day Google or Apple may become "kind of the default communication and entertainment function in the car," says IHS's Boyadjis, "I don't ever see them playing in things like the diagnostics of the car or doing remote door-unlock functions and such. That's still an area where the OnStars and the Ford Syncs and all the other branded connected car ecosystems can still maintain and differentiate upon."
Indeed, OnStar is a long-time example of the sort of branded communication systems auto makers employ to create product loyalty and brand recognition. In the almost 20 years since OnStar launched in 1995, the subsidiary of General Motors has touted the subscription-based service as an automobile safety feature -- in the event of an accident, the car would automatically call emergency medical personnel and tell them the accident location and also determine the severity of the accident and provide that information to first responders. More recently, OnStar has added other features, including remote diagnostics, turn-by-turn navigation, and hands-free calling, the latter traditionally employing an OEM-grown embedded experience.
Now GM is also exploring the integration of brought-in devices, like Android and CarPlay.
"We have worked with Apple for some time now to integrate Siri Eyes Free into our vehicles … and most of our brands now offer the feature in some vehicles," said John Correia, director of advanced development and concepts for global connected consumer at General Motors' Global Connected Consumer unit.
But, at this time, GM says it's not making any specific announcements regarding its plans for the Android or CarPlay platforms.
"GM will continue to provide the best integration possible with smartphones across all popular operating systems and to develop its own proprietary connectivity features to best ensure customer needs and expectations are met," added Correia.
"From a phone projection position, we will want to support enough standards to get a critical mass of the market, maybe 80%," he says. "So whatever ecosystem allows us to do that would be attractive to us. We haven't aligned ourselves with one specific company on a long-term basis because, frankly, all of them are relatively nascent – they've only been around for four or five years which is my typical planning horizon. To me, that's a generation of vehicle. So I don't necessarily want to tie myself into any particular technology; I'd like to be a bit more agnostic and be able to move to wherever the consumer industry is going."