Japanese chip vendor Renesas Electronics Corp. retained the leadership of the automotive semiconductor market in 2014, holding off rival Infineon Technologies AG, according to IHS.
An IHS analysis based on preliminary data published in January ranked Infineon first and Renesas second (see Banner Year for Automotive Chips), but the positions have now been reversed in an updated analysis from IHS. The updated analysis was based on final financial reports as well as some revised expectations in Europe, currency exchange rate changes and strong final quarter growth by some suppliers.
Renesas enjoyed a strong finish to the year in microcontroller and logic ICs. According to IHS, 39% of all vehicles include a Renesas microcontroller. The Japanese firm sells into all parts of the vehicle, including infotainment, advanced driver assistance systems (ADAS), body and convenience and powertrain, according to IHS.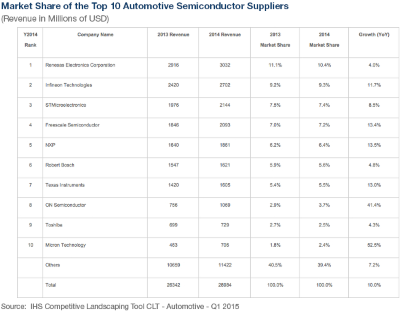 Infineon's annual automotive chip revenue grew by 11.7% in 2014, faster than the 4% growth of Renesas, but not enough to enable Infineon to grab the top spot. Infineon is expected to do well in 2015 based on its presence in powertrain, chassis and safety and its strong position in electrification with power management, MCUs and modules. The complementary products of International Rectifier and Infineon will reinforce Infineon's future position in hybrid electric vehicles and ADAS.
STMicroelectronics' position was unchanged, as it held on to the same third position that it did in 2013. Its annual growth of 8.5% was due, in part, to its leadership in the analog IC category for chassis and safety, powertrain, infotainment, body and convenience components. ST is also strong in logic ICs for infotainment and it is making in-roads with its sensors for airbags and motion detection. Additionally, STMicroelectronics is the foundry for Mobileye's silicon solutions, which led ADAS camera systems in 2014 with phenomenal growth, outperforming expectations (see Mobileye's Next Vision Processor Targets Autonomous Driving).
However, all three of these market leaders are expected lose ground in 2015, as they are overtaken by the merged NXP-Freescale entity. The two vendors are ranked fourth and fifth, respectively, for 2014, but their combined sales are set to make them the market leader in 2015.
"For 2015, IHS expects to see a shift among the leading suppliers in this category, given the recent merger of Freescale and NXP, two large players in the market," says Luca de Ambroggi, principal analyst for automotive semiconductors at IHS, in a statement. "We're also keeping a close eye on the integration of Infineon and International Rectifier, following their similar announcement earlier this year."
Questions or comments on this story? Contact: peter.clarke@globalspec.com
Related links and articles:
IHS Competitive Landscaping Tool CLT – Automotive – Q1 2015
News articles: