Chemicals company JSR Corp. (Tokyo) is set to partner with research institute IMEC (Leuven, Belgium) to form a company to provide photoresist materials for use with extreme ultraviolet (EUV) lithography.
JSR will provide manufacturing technology to the joint venture and plans to upgrade its facility by installing manufacturing and analytical equipment at its wholly-owned subsidiary in Belgium, JSR Micro NV. IMEC, a minority stakeholder in the joint venture, will provide expertise and services for quality control on materials.
In addition to manufacturing photoresist materials to be sold under the JSR brand, the joint venture will also offer manufacturing capability to other material suppliers.
The collaboration is expected to further the development of a necessary ecosystem in support of EUV lithography.
EUV lithography has been in development for decades. Although it is not yet deployed commercially, it is considered to be the most likely lithography technology to enable the production of ICs with critical dimensions under 10nm. While source power has been the No. 1 concern facing EUV lithography due to its impact on productivity, progress is also needed in mask infrastructure, resists, pellicles and inspection.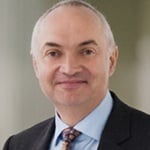 Luc Van den hove, CEO of IMEC. Image Source: IMEC"This collaboration strengthens our supplier hub concept, a neutral open innovation R&D platform that involves suppliers more deeply and at an early stage of process step and module development," says IMEC CEO Luc Van den hove, in a statement.
Questions or comments on this story? Contact: peter.clarke@ihs.com
Related links and articles:
IHS Semiconductor Manufacturing Research
News articles: