Silicon Catalyst LLC (San Jose, Calif.), the world's only startup incubator focussed exclusively on semiconductor solutions, announced the first companies to be selected for support under its partnership and mentoring program. The initial startups are ACP Semiconductor, BuzzTagg and zGlue Inc. (Palo Alto, Calif.).
ACP Semiconductor is a provider of power conversion and power management integrated circuits for markets such as smart energy and the Internet of Things (IoT). BuzzTagg provides RFID alternatives for enterprise environments such as factories and hospitals. zGlue is developing an active interposer technology to enable IoT through 3D chip stacking in a small form factor.
Silicon Catalyst was co-founded late in 2014 by Mike Noonen, former executive vice president of sales and marketing at foundry chip manufacturer Globalfoundries Inc. Noonen now serves as chairman of Silicon Catalyst. Dan Armbrust, co-founder, is the firm's CEO.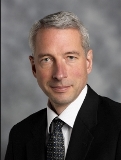 Dan Armbrust, Co-founder and CEO of Silicon Catalyst
It was not disclosed how much money, if any, Silicon Catalyst gave to these companies or how much value they will receive through access to services. The incubator's business model depends less on providing money by way of equity investment and more on providing startups with access to services and mentors who believe it is in the interest of the semiconductor industry to support startups. Startups that are found to be worth inserting into such an ecosystem may, in turn, find it easier to raise funds.
The companies that supported the launch of Silicon Catalyst—IMEC, Keysight, Synopsys and TSMC—have been joined by Advantest, a supplier of automated test equipment (ATE), PDF Solutions Inc., provider of yield improvement technologies and services for the IC manufacturing product life cycle and Autodesk, a leader in mechanical and 3D design. All of the participants are providing access to their relevant capabilities and services to address the typical design, prototyping, test and characterization needs of semiconductor startups, Silicon Catalyst said in a statement.
The initial incubator site is located at the Advantest facility on Zanker Road at North First Street in San Jose, Calif. A launch for Silicon Catalyst was held at the Avaya Soccer stadium, home to the San Jose Earthquakes, on April 30. More than 700 people attended.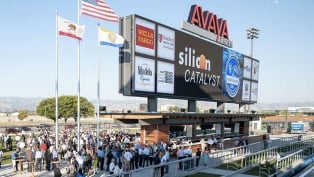 Silicon Sunrise Startup Event held at the Avaya Soccer stadium in San Jose with over 700 people who graced the event.
"Our business model is to provide a package of in-kind technical capabilities (EDA tools, fabrication via MPW's, test) plus lots of mentoring and space at the incubator and some cash in exchange for equity from each of our startups. The equity will go to Silicon Catalyst," Armbrust tells Electronics360 by email. "We are still very active in raising funds from investors and with success we should be in position to invest in each startup. For our pipecleaner startups—the first three announced—we are working with them to obtain funding, but it is not yet in place."
Armbrust adds that Silicon Catalyst does not intend to disclose equity or mix details.
While Silicon Catalyst has started operations in Silicon Valley, it intends to be enable startups worldwide. The company says it will work with local incubators around the world to help startups utilize its partners' services without the need to relocate.
Questions or comments on this story? Contact: peter.clarke@ihs.com.
Questions or comments on this story? Contact: peter.clarke@ihs.com
Related links and articles:
IHS Semiconductor Value Chain Research
News articles: