A novel twist on the business incubator model seeks to match Silicon Valley technology startups with strategic partners in the semiconductor industry while attracting venture capitalist who can fund emerging startups through their initial investment round.
The "innovation accelerator" initiative known as SKTA Innopartners also aims to revive semiconductor and electronics design and perhaps even manufacturing. Its ambitious goal is nothing short of rebuilding Silicon Valley's chip ecosystem, proclaims Angel Orrantia, Innopartners' business development director.
While it appears the latest effort to revive Silicon Valley's electronics ecosystem may be approaching critical mass, some observers question its decision to stop short of developing consumer applications.
The unlikely backer of what amounts to Technology Incubator 2.0 is the U.S. unit of South Korea's largest mobile carrier, SK Telecom. Innopartners' parent, SK Telecom Americas recently opened an office in Sunnyvale. In preparation for the launch, Innopartners has also been working with the Global Semiconductor Alliance's (GSA) Capital Lite Working Group.
Under the Innopartners model, vetted startups would be given:
Access to and collaboration with key researchers working for strategic partners. A strategic partner is defined as "an industry-leading company that is interested in potentially acquiring the startup."
Seed funding and guidance through the initial phase of operation.
Space in SKTA Innopartners' state-of-the-art facility in Sunnyvale.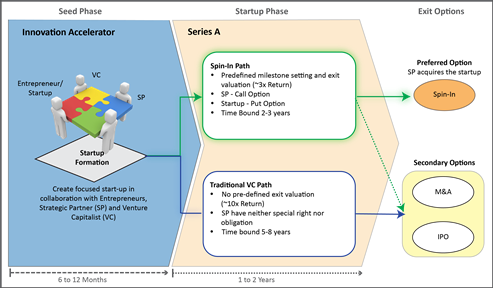 Accelerator Model (Source: SKTA Innopartners)
Innopartners' origins date back to SK Telecom's acquisition of a stake in memory maker Hynix Semiconductor in 2011. A year later, the Korean wireless carrier became the major stakeholder in what became SK Hynix.
Given the volatility in the global memory market, SK Telecom decided to diversify the chip unit's portfolio, in the words of Orrantia, "to soften the highs and lows of the memory business."
The parent company ultimately decided that organic growth was the way to go, so it formed SKTA Innopartners on the assumption, "Why don't we take a broader look and try to fix the entire semiconductor ecosystem?" said Orrantia.
So far, Innopartners has lined up three semiconductor-related startups and expects to sign up two others by the end of April. The accelerator has room for up to eleven startups. The goal is for the first "graduate" startups to progress to a Series A funding round by April 2015.
In an interview, Orrantia said tech entrepreneurs would focus on all parts of the electronics food chain short of the "consumer-facing applications layer." They will be "100-percent focused on product development" and during the incubation period won't be distracted by legal issues or the need to raise funds for product development, he added.
"We're filling the gap to go from [technology] concept to proof-of-concept," Orrantia explained. Innopartners considers that disconnect to be the missing piece of the innovation puzzle since startups face so many technology development risks.
In the final analysis, Orrantia stressed, the initiative aims to "de-risk" the process for funding tech startups. Hence, it requires member startups to team up with a strategic chip partner based in Silicon Valley. Innopartners isn't revealing the identity of those chip companies, but Orrantia said it includes most of the key industry players with the exception – so far—of the largest, Intel Corp.
Along with GSA, an Innopartners' white paper lists among its "friends" such Silicon Valley heavyweights as Applied Materials, Cadence, Walden International and Xilinx. Also mentioned are several VC, intellectual property, and law firms. No other Korean firms were listed.
Previous attempts to recreate Silicon Valley's chip ecosystem have achieved mixed results as semiconductor manufacturing shifted to Asia. While there's still plenty of semiconductor IP in the Valley, little is left from the region's glory days, save the EDA industry.
One key to the success of innovation incubators is finding a business model that adds value while establishing metrics for measuring the value added. Observers note that applications, not the devices that go into them, are more likely to attract new customers. Since the Innopartners business model stops short of applications, it's unclear to some whether or how its version of the "innovation accelerator" will bear fruit.
"I'm not skeptical," said lean startup guru Steve Blank. "I just don't know enough about what apps and what commercial markets they are after."
Blank, who launched eight technology startups in Silicon Valley over a 21-year span, including Zilog and MIPS Computers, suggested that if an Innopartners startup could come up with a high-volume device for a consumer product that would, for example, reduce the bill of materials for a smartphone, then it would have at least come up with a "faster, cheaper, better way" of making a product. And it wouldn't necessarily have to be a disruptive technology to prove useful.
"That's the way I would kick-start [Silicon Valley's] ecosystem, Blank asserted.
For now, the key metric for Innopartners is how many technology startups it can propel to a successful Series A funding round. Rather than spawning a series of pure-play tech companies, the hope is that entrepreneurs that gain funding or are acquired by a strategic partner will help seed the Silicon Valley ecosystem, Orrantia stressed.
So far, Innopartners' portfolio includes:
eTopus Technology, a mixed signal startup still in stealth mode that is developing high-speed copper interconnects that would rival the speeds provided by more expensive optical links. The startup is targeting the market for links between data centers.
Pavilion Data Systems is targeting hyperscale storage solutions. Its approach seeks to separate storage from computing resources within data centers.
Network42: Also in stealth mode, the newest Innopartners startup is focusing on software-defined data centers. Innopartners' parent, SK Telecom, operates data centers. Hence, Orrantia said it is tracking Network42's development closely, hinting that it might eventually acquire the startup.
SK Telecom is also interested in pushing development of advanced electronic materials along with sensor technology that could find applications in the wearable computing market, Orrantia said.
Once startups move to first-round funding, the hope is that strategic chip partners will eventually acquire part or all of the new tech companies.
The other part of the equation is "de-risking" chip technology investments for venture capital firms. Among the possible exit paths for VCs are: acquisition of the startup by a strategic partner; acquisition by another leading chip company; or additional funding from traditional capital sources.
Hence, Innopartners' pitch to VCs hinges on strategic partners providing some of the funding for product development and the prospect that chip companies may eventually acquire the startup.
Orrantia said participating VCs would have a defined exit of between two and three years with a return on investment of eight to ten percent. Given the failure rate for tech startups, however, that ROI goal remains a challenge even for a business model that seeks to shield investors from risk.
Blank, the serial entrepreneur, said the biggest challenge for Innopartners will be finding a sweet spot in the chip market. That could be a device breakthrough, say an optical interconnect, that costs less to make. Or it could be a high-volume component that costs a penny to make and reduces a consumer product manufacturer's bill of materials.
Still, Blank warned, "The devil is in the details."