European Union and U.S. economic sanctions against Russian companies and individuals over the Ukrainian crisis have left 99 percent of Russia's cooperative high-tech projects totally unaffected, according to Deputy Prime Minister Arkady Dvorkovich.
The sanctions have stripped some companies of the right to finance certain research, Dvorkovich at the Open Innovations Forum held in Moscow last week. But he offered assurance that the situation "has left 99 percent of the projects intact."

The sanctions have also enabled Russia to partner more with Chinese companies. China's Premier of the State Council, Li Keqiang, was a featured plenary speaker at the Open Forum event.
The other plenary speaker, Dmitry Medvedev, Russia's prime minister, said, "I hope this meeting of our academic and business communities will serve to deepen cooperation between our [two] countries."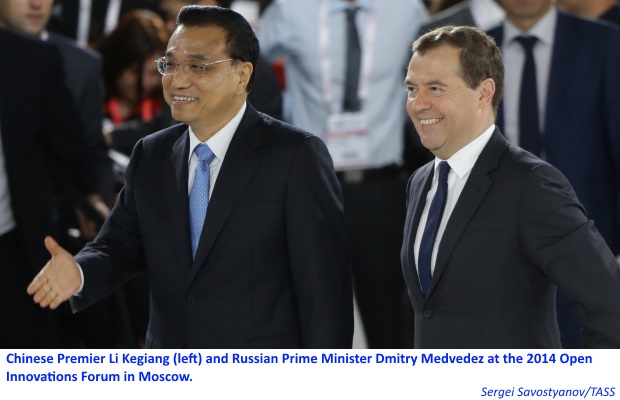 More than 15,000 participants from 70 countries attended the Open Innovations Forum 2014. The concurrent Expo held at a former car factory now being refurbished and called "Technopolis Moscow" had 84 stands representing developments of 490 companies from 15 countries.
A large-scale exposition of the People's Republic of China—the Forum and Expo's official partner country—demonstrated China's achievements in the sphere of special economic zones, technoparks and innovative clusters, aerospace industry development, the development of nuclear energy industry, informational and telecommunication technologies and new energy sources.
In his plenary remarks, Medvedev said Russia has invested 135 billion rubles (about $3.3 billion) in the development of national research universities.
For its part, China is simplifying administrative formalities and is transferring regulatory tools to lower levels, Keqiang said.
"We are changing the procedure for obtaining ownership to inventions and provide tax incentives to innovators allowing them to buy shares in companies," Keqiang said. "Social support to entrepreneurs has also been increased in order to protect them even if their projects fail."
Also at the forum, Anatoly Chubais, chairman of the executive board of research entity Rusnano Corp.; Herb Lin, president of Industrial Technology Investment Corp. (ITIC), Taiwan; and Glen Klein, President, 360ip (Singapore), formed a technology investment fund called Trans Pacific Technology Fund with a projected initial capital due to close this year at $200 million, and to be managed jointly by the three parties—half by Rusnano, with the remaining shared between ITIC and 360ip.
"Trans Pacific Technology Fund is the first joint Russia-China [Taiwan] venture fund. Taiwan is able to produce a huge range of products in large quantities. Half of iPhone components are made here," Lin said.
"We decided to become a co-founder of the fund to develop technologies that will be competitive, particularly in Russia," added Klein.
Also at the forum, Russian Venture Company (RVC) released a disturbing study based on some 100 interviews with business leaders, representatives of development institutions and top managers of leading technology companies. According to the study, 40 percent of surveyed experts expressed concern that tax incentives still do not favor innovators.
However Igor Agamirzian, chairman and CEO of RVC is more optimistic. "Russian IT companies began to operate on a global level for the first time this year, in part because the software market accounts for a significant part of non-natural resource exports of Russia," Agamirzian said.
TechUp, a national rating of fast-growing high-tech Russian companies, launched by RVC and the Association of Innovative Regions of Russia (AIRR), identifies the leading companies that are capable to develop and modernize domestic industries. The top 10 Russian companies are Novomet-Perm (energy), Interskol (power tools provider), I.T. Information Technology (systems integration), Elara (aero-electronics), SKB Kontur and Prognoz (business software), energy companies Diakont and ORPE Technologiya, and pharmaceutical companies Polysan and Biocad.
Related stories: