The much-anticipated new Apple Watch has the lowest hardware costs compared to retail price of any Apple product IHS Technology has researched, according to a preliminary estimate by IHS and its Teardown Mobile Handsets Intelligence Service. The teardown of the Apple Watch Sport by IHS Technology estimates that the actual hardware costs are only about 24 percent of the manufacturer's suggested retail price (MSRP). Estimated hardware cost-to-MSRP ratios for other Apple products reviewed by IHS are in the range of 29 to 98 percent.
"It is fairly typical for a first-generation product rollout to have a higher retail price versus hardware cost," said Kevin Keller, senior principal analyst-materials and cost benchmarking services for IHS Technology. "While retail prices always tend to decrease over time, the ratio for the Apple Watch is lower than what we saw for the iPhone 6 Plus and other new Apple products."
There are several new features and manufacturing methods used in the Apple Watch Sport, including: a Pulse Oximeter, Force Touch sensor, "Taptic Engine" feedback, encapsulated modular printed circuit board (PCB) assembly and stacked-die integrated circuits (IC). The Taptic Engine built into the Apple Watch, and integrated with the loudspeaker, contains a linear actuator that provides haptic feedback and vibrations.
The fabrication of the enclosure continues the Apple "Unibody" tradition of precision machining from a single block of aluminum. Apple is now extending this design philosophy into a highly miniaturized realm, mating the legacy of precision watchmaking with Apple's specialized manufacturing practices. As with their previous products, Apple has taken fabrication techniques – once typically restricted to low-volume manufacturing and prototyping – and scaled them into a high-volume production environment.
The Apple Watch is equipped with inductive charging technology and is being shipped with a wireless charger, based on Apple's own proprietary MagSafe charging technology. The Apple Watch battery appears to be somewhat simpler to replace than the batteries in many other Apple products. As long as the display can be carefully removed, the battery is attached with a simple snap-on connector.
Summary points:
Apple Watch Sport (A1553) 38 mm
Apple-designed apps processor
"Taptic Engine" feedback
Pulse Oximeter
Stacked-die integrated ICs.
Fingerprint sensor
Target market: Consumer
Pricing: $349.00
Availability: Worldwide
Total cost (direct materials and manufacturing): $83.70
Major Components:
- Apps Processor, designed by Apple – (Qty: 1)
- Flash - 8GB, MLC NAND, – MFG: Toshiba Semiconductor – (Qty: 1)
- SDRAM - 512MB LPDDR3 – MFG: Micron Technology – (Qty: 1)
- BT/ WLAN - IEEE802.11a/b/g/n, Bluetooth 4.0 – MFG: Broadcom – MPN: BCM43342MKWB – (Qty: 1)
- Audio Codec - MFG: Maxim –MPN: MAX98730EWJ – (Qty: 1)
- Battery - Li-Polymer, 3.8V, 205mAh, 0.78Wh – (Qty: 1)
- Capacitive Touch Controller – MFG: Analog Devices – MPN: AD7149-1ACBZ – (Qty: 1)
- Accelerometer / Gyroscope - 6-Axis – MFG: ST Micro – (Qty: 1)
- Ambient Light Sensor – MFG: ams AG – (Qty: 1)
- Touchscreen Controller – MFG: Analog Devices– MPN: AD7166-202ACBZ– (Qty: 1)
- MEMS TCXO – 32.768KHz – MFG: SiTime– MPN:SiT15XX– (Qty:1)
Device Overview 1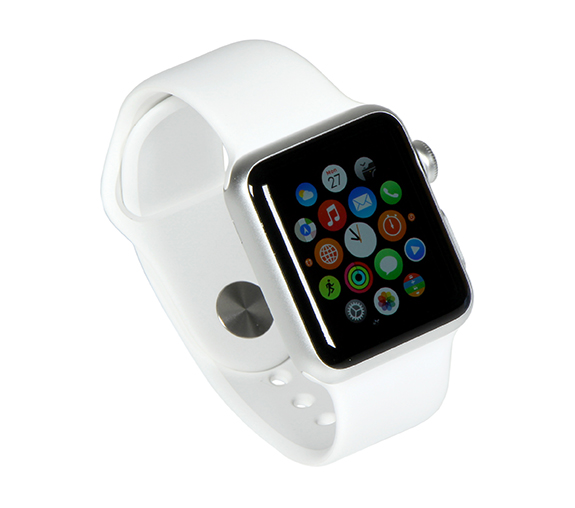 Source: IHS
Device Overview 2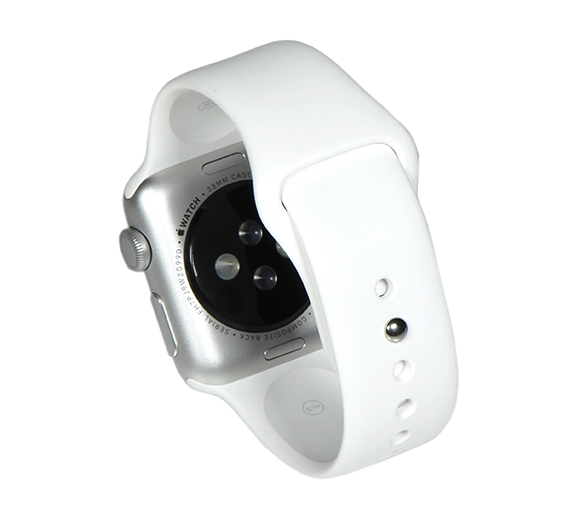 Source: IHS
Main PCB Top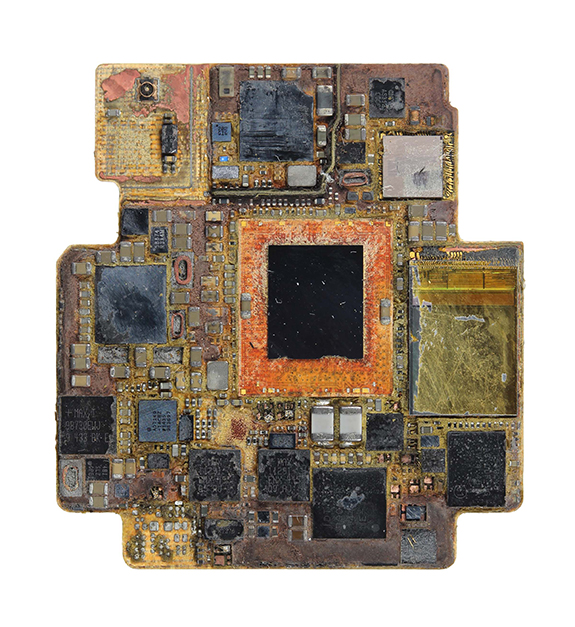 Source: IHS
Main PCB Bottom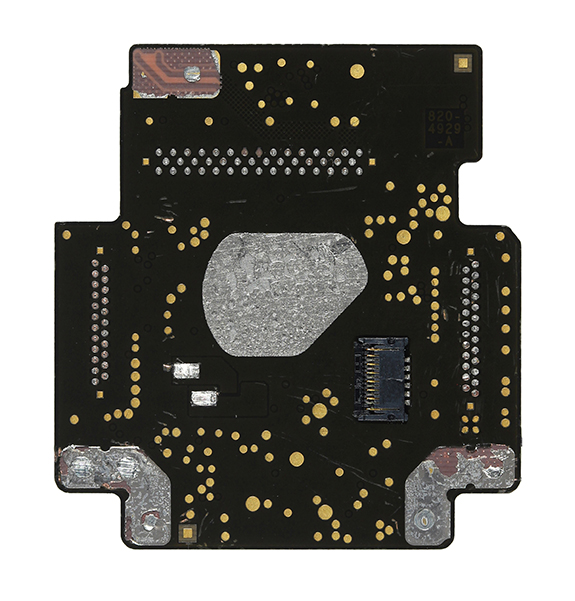 Source: IHS
Display Module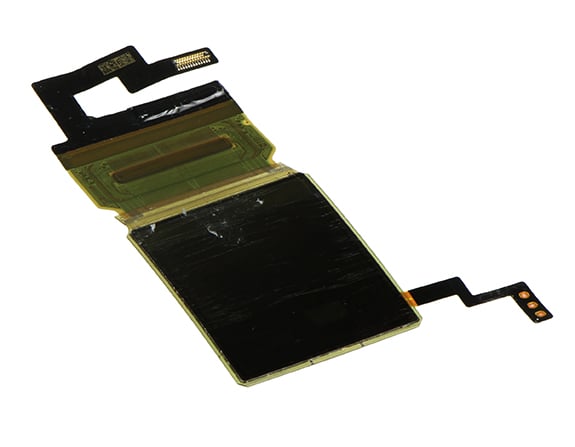 Source: IHS
RELATED ARTICLES