Globalfoundries and NXP Semiconductors NV have created 300 millimeter (mm) prototype wafers for embedded non-volatile memory (eNVM) on Globalfoundries' 40-nanometer (nm) process technology.
The joint development is targeted at creating high density on-chip eNVM products for applications such as identification, near field communication (NFC) and healthcare. Volume production of the chips is expected to begin in 2016 at Globalfoundries' Singapore facility.
NXP said it will use Globalfoundries' semiconductor manufacturing capability to apply the overall technology to 40nm eNVM products for its customers.
Embedded non-volatile memoryis different from discrete memory in that it is embedded within the processor rather than being an entirely separate device. This makes it extremely small in density and it does not compare or compete with regular NOR or NAND flash memory.
Michael Yang, senior director of memory and storage at IHS Technology, said moving eNVM to a more advanced process node means the products that will be embedded into processors will be smaller in size and cost less to manufacture. "Lower cost is always good," Yang said. "It also means Globalfoundries may be able to scale up in density. As applications become more sophisticated, more density is always good, and could be a competitive advantage."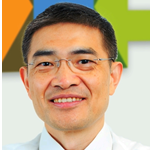 Hai WangHai Wang, executive vice president of technology and operations at NXP, said in a statement that Globalfoundries is the first foundry to develop 40nm eNVM process technology specifically for markets in the digital identification (ID) and information technology (IT) security industries. Wang added that the joint venture will further NXP's position in secure applications and NFC.
Questions or comments on this story? Contact peter.brown@globalspec.com
Related links:
IHS Semiconductor Manufacturing
News articles: