Andes Technology Corp., a developer of 32-bit processor intellectual property available for license, has won design-ins in multiple system-on-chips (SoCs) from fellow Taiwan-based chip company MediaTek Inc.
Andes indicates that it expects to help MediaTek and others with the development of SoCs for smart-home and Internet of Things (IoT) applications where the lean design of its N9 processor core can beat off established competition from the likes of rival processor IP licensors ARM Holdings plc. and Imagination Technologies Group plc.
Andes says the design-ins were won on the basis of offering the smallest die area and the lowest power consumption among competitive options. Nevertheless, Andes did not provide any part numbers or other details of the design wins.
In 2014, MediaTek (Hsinchu, Taiwan) grew to become a top-ten chip company, with annual sales of about $7.2 billion, according to a global chip company ranking prepared by IHS. The company is a significant supplier of SoCs for smartphones and consumer electronics, but has almost exclusively worked with ARM as its main processor and IP supplier while splitting is graphics processor unit (GPU) licensing between ARM's Mali and Imagination's PowerVR families.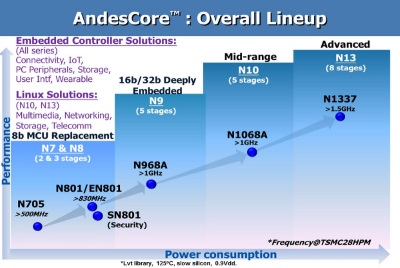 Andes processor core line up. Source: Andes Technology Corp.The N9 core is intended for deeply embedded applications including wireless networking and sensor functions. On its website, Andes describes N9 as being suitable for operation at 1GHz clock frequency addressing applications in MCUs, embedded and automotive control and storage.
"The N9 dramatically reduces the instruction memory size and cost of the SoC through higher code density, when compared to legacy 8- or 16-bit MCUs. Despite the N9's compact size, it still provides more than 40% better performance than the competing 32-bit processor cores to enable functionality such as 802.11 drivers and TCP/IP protocol stack for network applications, GPIO and PWM for intelligent control, as well as UART and SPI interfaces for device communication," says Charlie Su, chief technology officer at MediaTek, in a statement.
Frankwell Lin, president of Andes, tells Electronics360 via email that some of the design wins are already in mass production.
"We have multiple design wins across a range of applications from wireless connectivity to IoT," says Lin.
It remains unclear to what extent Andes has displaced ARM or is being used as an adjunct processor. "In some applications, Andes is used alongside another processor or even a DSP. We work well in devices with heterogeneous chip IPs," Lin says.
Tom Hackenburg, principal analyst for processors and DSPs at IHS, says that Andres likes to call itself a leader in developing easy to integrate processors and platforms, but that in reality the company is still an emerging core IP supplier. Hackenburg says Andes has had great success as an emerging company, especially in China and other Asian markets.
"MediaTek represents a potentially huge design win for Andes, but it remains to be seen how MediaTek intends to use Andes Technology," Hackenburg says. "MediaTek's primary SoC solutions are built on ARM Cortex A series IP and this is very unlikely to change. The N9 license they have purchased is for a core that is considerably smaller than they primary SoC solutions. It would closer in competition to the ARM M0."
Hackenburg speculates that MediaTek may have made the deal with Andes to create more bargaining pressure for negotiating deals with ARM. Andes may also provide better local supplier support in Taiwan, Hackenburg says, and MediaTek could be creating a customized solution that ARM is not willing to support with its standard.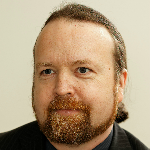 Tom Hackenburg
"Regardless of the hype from Andes, they are a solution to watch," Hackenburg says. "While ARM continues to increase market share, and many processor vendors have abandoned proprietary or open solutions to standardize on ARM compatible processors. Andes is bucking the trend as a successfully emerging core IP supplier."
Andes says it is expecting the N9 to achieve design wins in SoCs aimed at safety and security devices such as internet-connected sensors, monitors, cameras, and alarm systems and energy management components such as smart thermostats and lights without confirming that MediaTek has parts addressing those applications.
The N9 complies with version 3 of the AndeStar ISA and comes with a degree of configurability. The core can be configured with 16 or 32 general registers, two or three read ports on the register file, one or two write ports, a fast or a small multiplier, a 24-bit or 32-bit address space, and a choice of bus interfaces (APB, AHB, AHB-Lite, or AXI) to connect to the rest of the system. The N10 family additionally supports memory caches and an optional floating-point coprocessor.
Questions or comments on this story? Contact: peter.clarke@globalspec.com