EDA and IP vendor Synopsys Inc. signed a deal to acquire Codenomicon, a Finland-based software security firm. Terms of the deal, which is expected to close within 30 days, were not disclosed.
Synopsys (Mountain View, Calif.) says the acquisition will bring talent, technology and products to expand the company's presence in the software security market and extend its Coverity quality and security platform to help software developers find and fix security vulnerabilities and protect applications from security attacks.
Codenomicon's customer base includes some the world's biggest organizations in telecommunications, finance, manufacturing, software development, healthcare, automotive and government agencies.
A team of security engineers at Codenomicon discovered the Heartbleed bug last year while improving a feature in their security testing tools, reporting it to the National Cyber Security Centre in Finland. A Codenomicon engineer is credited with naming the bug.
The Codenomicon Defensics tool used to discover the Heartbleed bug automatically tests the target system for unknown vulnerabilities, helping developers find and fix them before a product goes to market, according to the company. It is a systematic solution said to make systems more robust, harden them against cyber-attacks and mitigate the risk of vulnerabilities.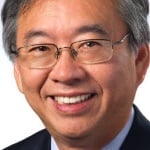 Chi-Foon ChanThe Codenomicon AppCheck tool adds software composition analysis capabilities to the Coverity platform, helping customers reduce risks in third-party and open source components, Synopsys says. The AppCheck tool enables customers to obtain a software bill of materials for their application portfolios, and identify components with known vulnerabilities, the company says.
Chi-Foon Chan, president and co-CEO of Synopsys, says through a statement that combining the Coverity platform with Codenomicon's will enable Synopsys to provide a more robust software security solution with tools to help ensure the integrity, privacy and safety of software applications. "Businesses are increasingly concerned about the security of their applications and protecting customer data," Chan says. "Adding the Internet of Things to the mix increases the complexity of security even further."
Questions or comments on this story? Contact dylan.mcgrath@ihs.com
Related links:
IHS Technology Semiconductors & Components Page
News articles: