EDA software and intellectual property licensor Cadence Design Systems Inc. has landed its biggest contract in more than five years in the most recent financial quarter. Company executives declined to name the company but Lip-Bu Tan, Cadence CEO, described it as a "marquee global company" in a conference call with analysts held to discuss third quarter financial results.
Tan referred to the contract under the heading of core EDA business but when asked to delve deeper said: "We cannot say more than that. But clearly it's a very big contract for us and clearly across product lines. Digital is a very good portion of that and then also our verification, our IP business. So overall we are very excited about it and we clearly want to do everything we can to support and then proliferate that business." He concluded: "Overall I think across all product line we're very excited about it."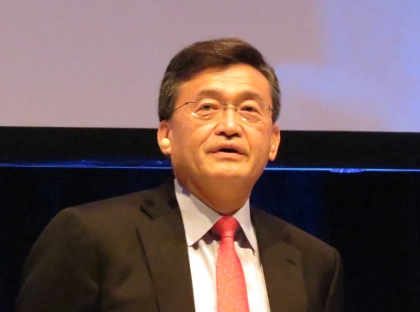 Cadence CEO Lip-Bu Tan
However, later in the call Tan added to this by saying that the "very marquee global company" was increasing spending with Cadence and working with Cadence at the most advanced node. "And clearly we need – want to make sure that we are able to support and deliver and also proliferate across the product line, and then I think that we also have a tremendous opportunity across all functions."
Geoff Ribar, CFO of Cadence, said the benefit from the contract win had been included in the outlook for the third quarter given with the second quarter financial results. "We expected to win this business," said Ribar.
For the quarter Cadence reported revenue of $400 million up 9 percent from $367million in the same quarter a year before. Cadence recognized a net profit of £38 million down from $39 million a year before.
The company also took a charge of $11.0 million for restructuring costs in the third quarter, although despite some layoffs the company's headcount was up by 38 to 6082 at the end of the quarter.
Ribar tied the restructuring in to support for Cadence's new customer. "Clearly as Lip-Bu talked about, we've had a material win in the last quarter with a global company. We expect more coming and those do require investments. The restructuring helps us afford those investments and make sense for us to be doing it, where we are shifting resources from areas where they are less productive and less important perhaps to these areas."
The China effect
Cadence is also paying attention to what it calls the China effect. This was the news that came out of China earlier in 2014 that it intends to invest $100 billion or more in the semiconductor sector over coming years.
"This is a very important game-changer, we call it the China factor," said Tan adding that he sees movements such as the acquisition of RDA Microelectronics and Spectrum, Montage and Omnivision in that context. "Clearly we want to make sure that our tool and IP are in all those companies and so that we can proliferate and then working with the government in terms of driving some of these, the best tool and design capability."
For the fourth quarter of 2014, the company expects total revenue to be between $417 million and $427 million. For the full year Cadence said it expects revenue in the range $1.575 billion to $1.585 billion.
Related links and articles:
News articles:
TSMC's Near-Threshold Lead Will Pay Dividend
ARM, Cadence Expand IoT, Wearables Agreement
Cadence CTO Rowen Forecasts Processor Design Split