The global market for smartwatches is set for tremendous growth in the next five years, thanks to the release of the Apple Watch and competing smartwatches, according to new research from IHS Technology.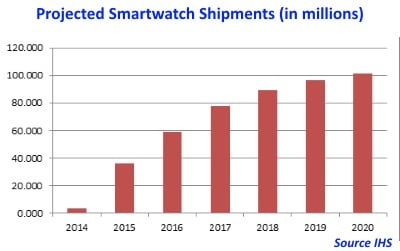 Smartwatch shipments are set to increase to 101. 4 million shipments by 2020, up from 36 million smartwatches sold this year, IHS says. Shipments are projected to increase at a compound annual growth rate of 23% from 2015 through 2020.
Following 2015, smartwatch shipments will rise to 59.1 million and 77.5 million units in 2016 and 2017, respectively, according to the IHS forecast. The growth is projected to continue in 2018 and 2019 with smartwatch shipments reaching 89.4 million units and 96.5 million units, respectively, according to the forecast.
Apple's Apple Watch will no doubt be the highest profile of the smartwatches—given its marketing muscle, consumer loyalty and pedigree—but there are ample competitors gearing up to take advantage of this projected growth. Samsung already has a smartwatch on the market, with plans to introduce other models in the near future. LG also plans to introduce its own smartwatch in 2015. Start-up Pebble recently closed a Kickstarter campaign with a record $20 million in funding—the most ever for the crowdfunding site.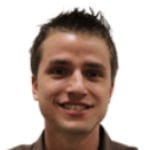 Antonios Maroulis
There are a host of other smartwatch vendors ready to roll out device in hopes of grabbing a slice of this forecast of 101.4 million units shipped. "All kinds of companies—smartphone OEMs, start-ups, wristwatch makers—are trying to catch the eye of consumers," says Antonios Maroulis, analyst for mobile media at IHS Technology.
Questions or comments on this story? Contact peter.brown@globalspec.com
Related links:
News articles: