Chinese mobile phone display module makers are trying to put the squeeze on rivals by increasing their share of global handset display shipments in 2015, resulting in increased competition, according to new research from IHS Technology.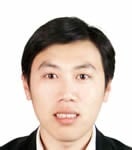 Terry YuShipments of mobile phone display modules are expected to increase by 4 percent in 2015, reaching 2 billion units, according to the IHS report. Because of this limited growth expectation, China's module makers have made a concerted effort to raise their market share to command greater influence and revenue. As an example, BOE unseated Samsung Display to become the leading global mobile phone display module supplier in the third quarter of last year, IHS said.
Terry Yu, senior analyst for small and medium displays and display technologies at IHS, said in a statement that BOE was able to gain greater traction through aggressive, direct relationships with Chinese mobile phone makers. Samsung's LCD outsourcing strategy also contributed to BOE's rise, Yu said.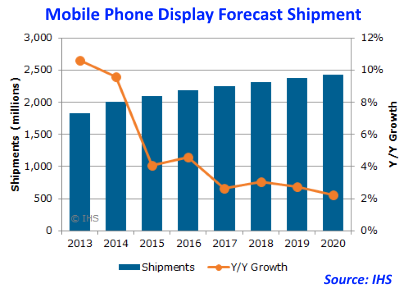 IHS forecasts a growth of just 4 percent for mobile phone display modules in 2015 sparking greater competition among players.BOE isn't the only Chinese vendor turning its focus to the mobile phone market, according to Yu. Tianma and InfoVision are also focusing their G5 capacity in the sector "placing strong emphasis on a-Si based mobile phone displays," he said.
Chinese vendors are also expanding their presence in the high-end mobile phone display market by investing in low temperature polysilicon (LTPS) and active matrix organic light emitting diode (AMOLED) manufacturing capabilities, IHS said.
However, Yu said that until these capacities are ready in China, competition for high-end mobile phone displays will be primarily centered on panel markets in other parts of Asia—specifically among Japan Display, Sharp and Samsung. All of these companies have aggressive plans for the high-end Chinese smartphone market this year, Yu added.
Questions or comments on this story? Contact peter.brown@globalspec.com
Related links:
IHS Quarterly Mobile Phone Display Shipment and Forecast Report
News articles: