Although low gas prices are a boon for consumers, the effect on business has not been as positive.
The pace of U.S. manufacturing growth decelerated for the second month in a row in January, driven in part by reduced demand from the nation's petroleum and coal products sector. Overall, manufacturing is still expanding, with the Institute of Supply Management's (ISM) key index, the PMI, remaining above 50.
The PMI registered 53.5 percent in January, down 1.6 percent from December's seasonally adjusted reading of 55.1 percent.
"With the PMI at 53.5, manufacturing is still growing nicely for the 20th consecutive month," said Bradley J. Holcomb, chair of the Institute for Supply Management's manufacturing business survey committee. "We are well above 50, and that's where we like to be."
Any number over 50 indicates expansion; any number below 50 indicates contraction. New orders, however, declined from December by 4.9 percent to settle at 52.9 percent.
"Clearly with new orders down that's not what we expected or where we'd like it to be," Holcomb said.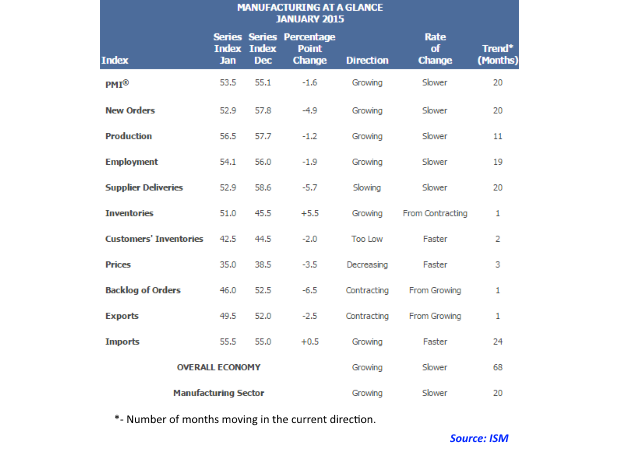 The petroleum and coal products sector has been severely impacted by reduced oil prices, Holcomb explained. Manufacturers in this arena are ordering fewer materials and machinery.
"Oil is a doubled-edged sword [for the manufacturing industry] and the minuses [for January] are being generated from that industry," he said.
January's production index declined by 1.2 percent to 56.6 percent; and employment declined by 1.9 percentage points to register 54.1 percent. One exception is the computer and electronics segment, which reported sales have stayed very strong even with the dip in oil prices. Consumer-product companies are also reporting increased demand as low gas prices put more cash in consumers' pockets. Of the 18 industries the ISM tracks, 14 reported growth.
January's manufacturing data is being compared with seasonally adjusted numbers from 2014. The ISM periodically reviews its data to strip seasonal effects from its database.
"This includes things like the Christmas season, Thanksgiving, shorter months such as those in February, or winter situations that make one month different from the rest," Holcomb said. "We pull those [factors] out so that one month is comparable to the rest." December's PMI, for example, was adjusted from 55.5 percent to 55.1 percent.
It appears that foreign manufacturing markets are struggling as well: Exports in January declined by 2.5 percent to reach 49.5 percent.
"With exports contracting for the first time in more than 20 months, there's an indication that demand from China and Europe are declining," Holcomb said.
The strength of the dollar is also a challenge for U.S. manufacturers. But two consecutive months of deceleration in the domestic market are not unusual, Holcomb added.
"We've seen that pattern before," Holcomb said. "This time, it's not just oil prices but the uncertainty about what it all means. It takes some time for CFOs to work though their businesses and make adjustments accordingly. The oil situation has been known over the course of time to by cyclical, and we are in the midst of a downturn."



Inventories of raw materials registered 51 percent, an increase of 5.5 percentage points above the December's reading. Inventory growth is not good news for the domestic industry.
Respondents to the ISM's monthly survey indicated that a work slowdown at West Coast seaports continues to have a negative effect on their ability to export. "Dock problems in California continue to delay shipment out of the West Coast," said an executive in chemical products.
"[The] West Coast port slowdown is getting serious," said a paper products executive. "[The] mill has 40+ days of production at the ports and various warehouses."
A respondent from the wood products industry cited a trifecta of issues: "[The] Chinese New Year, West Coast port dock slowdowns, coupled with a railroad embargo are all creating logistical challenges and increased backlog of orders," the executive said.
On the upside, prices of raw materials are declining: January' index declined 3.5 percent from December to reach 35 percent. Only two commodities experienced price increases in the past month: corn-based products and electric components.
Related links: