U.S. manufacturing is having a hard time shaking off the winter doldrums as the industry's rate of expansion in March fell to its lowest level since May 2013. Extreme weather across many parts of the country in February and March further delayed shipments that were stalled at West Coast seaports due to labor strife.
"There are a number of factors that are adding up to a strong headwind and creating drag for manufacturers during the first quarter of the year," says Bradley Holcomb, chair of the Institute for Supply Management (ISM) Manufacturing Business Survey Committee.
The ISM's leading manufacturing index, the PMI, declined by 1.4 percentage points from February to settle at 51.5% in March. Any number above 50 indicates expansion; any number below 50 indicates contraction.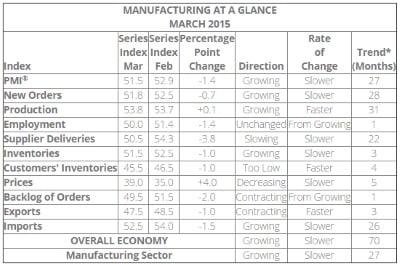 Source: ISM. Click to enlarge.Increased healthcare costs, oil prices and a strong U.S. dollar also contributed to the lackluster results. New orders registered 51.8% in March, a decrease of 0.7 percentage points from 52.5% in February. The production index registered 53.8%, 0.1 percentage point above February's level of 53.7%. The employment index registered 50%, 1.4 percentage points below 51.4% in February.
"Oil prices continue to be both a positive and a negative," says Holcomb.
Although many businesses are benefiting from lower energy costs, demand from companies in the petroleum and coal products sector remains soft. "Business is really starting to slow down," says a computer and electronic products executive surveyed by ISM. "Oil pricing is having a major effect on energy markets."
Healthcare premiums, Holcomb says, are more of an unknown at the moment than a concern. This is the first time that issue has been cited by ISM members.
The dollar's strength relative to international markets negatively impacted U.S. exports in March as the ISM's index fell by 1.0 point to reach 47.5%. "The stronger dollar is definitely having an effect on the export business," Holcomb says. "Finished products are becoming more expensive."
Any single factor—the weather, worker strikes or fluctuating prices—would have an impact on manufacturing, he says. "Collectively, they're adding up to a bit of a concern."
Although raw material prices continue to decline, March's price index registered 39%, 4 percentage points above the February reading.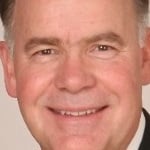 Bradley Holcomb
On balance, though, Holcomb says the industry is well-positioned for growth. Last year started out much the same way, with freezing temperatures and heavy snowfall closing businesses and delaying shipments. Overall, he says, manufacturing indexes remain in positive territory.
"I'd like to think now that spring is upon us that the outlook is consistent with the idea that the winter doldrums are behind us," Holcomb says. "Consumer confidence is up; people have more money in their wallets, and we may see pent-up demand in the near future. Although the PMI is relatively low, the indexes are still balanced and we are well positioned to have better numbers going forward."
Questions or comments on this story? Contact dylan.mcgrath@globalspec.com
Related links:
IHS Semiconductor Manufacturing
IHS Operational Risk Management
News articles: