Although the rate of domestic manufacturing growth remained flat between March and April, several trends supporting the industry's leading production index accelerated for the period. At a level of 51.5%, the Institute for Supply Management (ISM)'s April PMI is better than last month's, says Bradley J. Holcomb, chair of the ISM Manufacturing Business Survey Committee.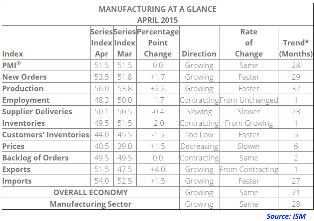 Manufacturing ISM-data is seasonally adjusted for New Orders,Production, Employment and Supplier Deliveries indexes.Source: ISMGrowth among the nation's manufacturers, says Holcomb, is more broadly dispersed than last month, which saw most of the ISM's indexes decline. Of the 18 industries the ISM tracks, 15 reported growth. Eleven segments contributed to new orders increasing by 1.7% to 53.5%; and production, which grew 2.2% to 56%, increased for 13 industries. The exports, which increased by 4% to 51.5%, rose above 50 from 47.5 in March.
Any number above 50 indicates expansion, while any number below 50 indicates the industry is contracting.
Two industries that reported contraction in April were apparel, leather and allied products; and computer and electronic products. The high-tech industry is having a hard time shaking off the effects of an extended work stoppage at the U.S's two busiest seaports: Los Angeles and Long Beach, Calif.
Although union workers on the West Coast stopped short of a strike, international shipments are still being delayed, says one electronics executive. The electronics industry is the largest segment tracked by the ISM, explains Holcomb, and therefore was disproportionately affected by the slowdown. Electronics is also a heavier import and export business for the Americas than other market segments, he adds.
Shipments in the machinery segment of the U.S. market are also slowly rebounding, although one executive says orders are still being expedited through Vancouver.
The strong dollar remains a concern for manufacturers, Holcomb says, but the increase in export activity remains a positive sign that U.S. products are in demand in foreign markets. Although employment also declined between March and April—48.3% from 50% the prior month—"we see these excursions below 50 every once in a while."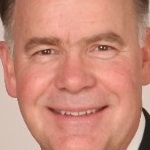 Bradley J. Holcomb
Some industry segments, particularly furniture and related products, continue to report they are having a hard time finding both skilled and unskilled workers. "Manufacturing has been hiring, so maybe this is just a tap on the brakes while companies see where the trend is headed," Holcomb says.
Raw materials prices continue to decrease, which is unusual for the first half of the year. Vendors usually raise prices at the beginning of the year to see if they will stick. "We think the decline is all about oil and related commodities. We'll be asking our panel more about this and the impact of the port slowdown in the upcoming months," says Holcomb.
"The bottom line is that I like this 51.5% better than last month's and perhaps it signals a bottom in regard to consumer confidence and retail activity," Holcomb adds. "Both of those indicators seem to be picking up so it looks like we have a few good months ahead of us."
Questions or comments on this story? Contact [email protected]
Related links:
IHS Semiconductor Manufacturing
IHS Operational Risk Management
News articles: