A labor dispute and weak overseas markets continue to have a dampening effect on U.S. manufacturing, which in February expanded at its lowest rate since January of 2014.
The Institute for Supply Management's key index, the PMI, dropped to 52.9 percent in February from 53.5 percent a month earlier. Although the domestic manufacturing industry expanded for the 26th consecutive month, executives say a work stoppage at key West Coast sea ports impeded both exports and imports for the past several months.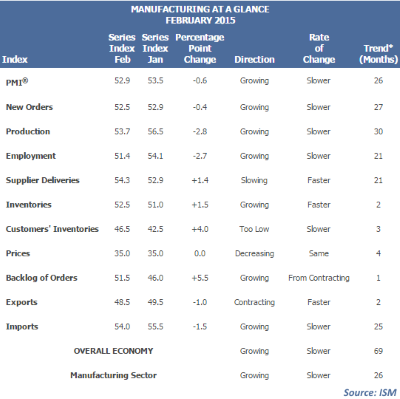 "The work stoppage has been a growing concern for U.S. manufacturers and has been the dominant discourse for the past several months," said Bradley J. Holcomb, chair of the ISM's Manufacturing Business Survey Committee. "However," he added, "the dispute has apparently been resolved, and it looks like things will get back to normal. First that means clearing the docks [of cargo] and clearing the ocean of ships that are waiting to unload."
The International Longshore and Warehouse Union reached a tentative agreement with the Pacific Maritime Association on a new contract in late February, bringing an apparent end to the work stoppages in West Coast ports that had a major impact on shipping.
Manufacturers had been forced to work around the nation's busiest ports—Los Angeles and Long Beach—which in many cases has meant spending money to transport products and materials by air. "The dock delay on the West Coast is seriously impacting supply chain logistics," said an executive in the computer and electronics sector.
Although Holcomb didn't label the overall impact of the work stoppage as significant, he said exports, which declined in February by 1 percent, were showing signs of fatigue. "Customers from overseas may have hesitated to place orders for fear they might not get their deliveries," he said, adding overseas markets continue to exhibit weak demand.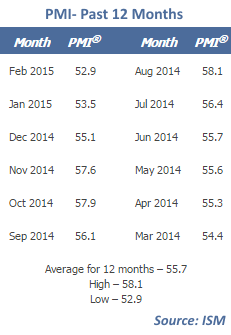 The biggest takeaway from this event, said Emily Crowley, senior economist with the pricing and purchasing division of IHS' Operational Risk Management practice, is an understanding of how supply chains are vulnerable to actions such as a work stoppage.
"Many companies are reconsidering using West Coast ports," she said. The expansion of the Panama Canal, for example, will enable businesses to reroute shipments from the West Coast to the East Coast in the near future. "As far as damages incurred, the U.S. has lost a little credibility in terms of being able to depend on West Coast ports," Crowley said. Some sectors, such as food products, lost revenue due to spoilage during the 6-month slowdown. "That's revenue they can't get back," Crowley added.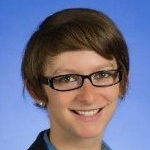 Emily Crowley
Other ISM indices also decelerated in February: new orders registered 52.5 percent, a decrease of 0.4 percentage point from the reading the prior month. The production index registered 53.7 percent, 2.8 percentage points below the January reading of 56.5 percent. The employment index registered 51.4 percent, 2.7 percentage points below the January reading of 54.1 percent; and inventories of raw materials registered 52.5 percent, an increase of 1.5 percentage points above the January reading of 51 percent. But Holcomb was able to point to several bright spots in February's results:
Low gas and oil prices—which have negatively affected the ISM's petroleum and coal products sector—have nonetheless benefited other segments in U.S. manufacturing. "Most of the other manufacturing segments are benefiting from lower materials prices and savings in the energy required to run their plants," Holcomb said. Overall, the ISM's prices index registered 35 percent in February, which was flat from January's level.
Manufacturers' backlog of orders increased by 5.5 percent in February to reach 51.5. "This means there's a grab bag of old orders for manufacturers to work on and that in turn will support production rates," Holcomb said.
Customer inventories—although they grew in February—are still safely below 50 at 46.5. Any number above 50 signals growth, while any number below 50 indicates contraction.
"I think we are off to a good start [in 2015], and with the port issue going away there is one less thing to worry about," Holcomb said. "We are still anticipating a continuation of growth in 2015."
Questions or comments on this story? Contact peter.brown@globalspec.com
Related links:
IHS Semiconductor Manufacturing
IHS Operational Risk Management
News articles: