Motorola Mobility's Moto 360 Android smartwatch, released in September, broke new ground in that—unlike other previous smartwatches—it features a round capacitive display that looks much like those traditionally associated with wrist watches.
Prior to the Moto 360, touchscreen displays associated with smartwatches and other consumer electronics devices were almost exclusively rectangular. And while the different form factor may seem trivial, putting it into production was anything but, according to Dan Panzica, a veteran of engineering and electronics manufacturing who worked on the project as a contractor at Motorola.
"Up until that time, in our ecosystem, the displays were rectangular," said Panzica now a senior principal analyst for outsourced manufacturing at IHS Technology. "Entire new processes needed to be created to support the circular display."
Producing a round display involved different design rules and entire new saw process to cut the thin-film-transistor LCD panels, Panzica noted. "There is a reason no one was doing round," he added. "The entire process was an invention."
After some initial difficulties creating the displays, yields came up very quickly, Panzica said.
The end result was success. The Moto 360 hit stores shelves as an elegant, attractive smartwatch that many consumers gravitated to. And since the Moto 360, a number of other smartwatches with round faces have become available, including the LG G Smart Watch.
"You are seeing a lot of smartwatches with round designs out there now," Panzica said. "Breaking that ice for the first time was very tricky."
The following is an overview of a teardown analysis conducted by IHS Technology Teardown Services:
Summary points:
Smartwatch requiring a nearby smart device
Compatible with Android 4.3 or higher
TI OMAP 3 Applications Processor OMAP3630
Built-in Pedometer and Pulse Oximeter
Target market: Consumer mass market
Pricing: $250 USD
Availability: Worldwide
Total cost (direct materials and manufacturing): $65.77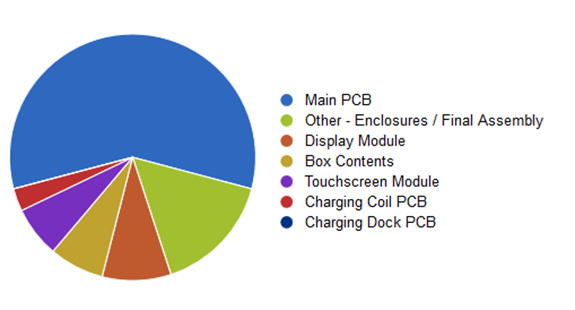 Major Components:
- Applications Processor, OMPA 3, ARM Cortex-A8, PowerVR SGX 2D/3D Graphics & Imaging Accelerators, 45 nm, PoP – MFG: TEXAS INSTRUMENTS INC. – MPN: OMAP3630 – (Qty: 1)
- Enclosure, Main, Top Bezel, Machined Stainless Steel, Painted – (Qty: 1)
- Display Module, 1.56 in Diagonal, 320 x 290 IPS LCD – (Qty: 1)
- Display Window/Touchscreen Assembly, 1.56 in Diagonal, Capacitive, GFF type, Painted, Printed, w/Integral Flex PCB, w/Ambient Light Sensor – (Qty:1)
- SDRAM, Mobile DDR, 4 Gb, 200 MHz, 1.8 V, PoP – MFG: MICRON TECHNOLOGY INC. – MPN: MT46H128M32L2KQ-5 IT:B – (Qty: 1)
- Bluetooth/FM/WLAN, Single Chip, IEEE802.11b/g/n, BT 4.0 LE, FM Receiver & Transmitter, 45 nm – MFG: TEXAS INSTRUMENTS INC. – MPN: WL1831 – (Qty: 1)
- Flash, eMMC NAND, 4 GB, MLC – MFG: TOSHIBA SEMIONDUCTOR – MPN: THGBMAG5A1JBAIT – (Qty: 1)
- Charging Dock, w/Low-density Polyethylene Bag & Paper Label – (Qty: 1)
- Digital Signal Processor – MFG: TEXAS INSTRUMENTS INC. – MPN: TMS320C5545 – (Qty: 1)
- Integrated Analog Front End, for Pulse Oximeters – MFG: TEXAS INSTRUMENTS INC. – MPN: AFE4490RHA – (Qty: 1)
Device Overview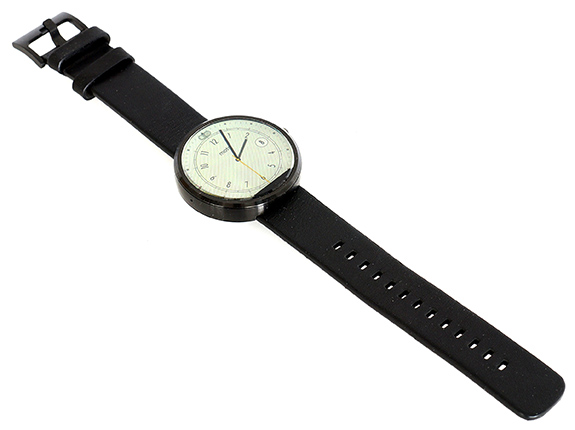 Source: IHS
Main PCB Top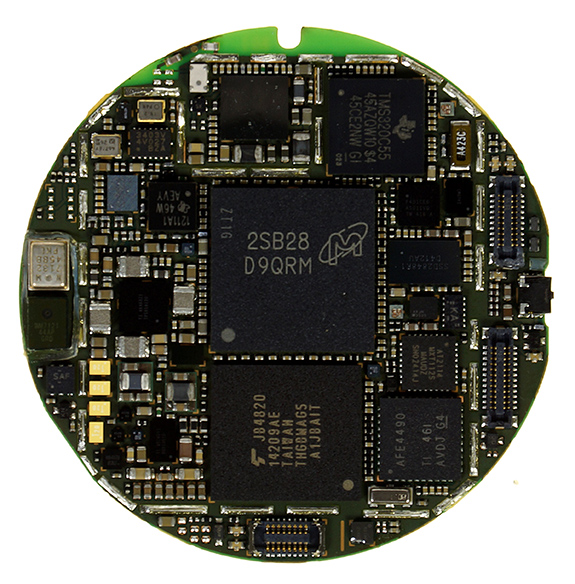 Source: IHS
Main PCB Bottom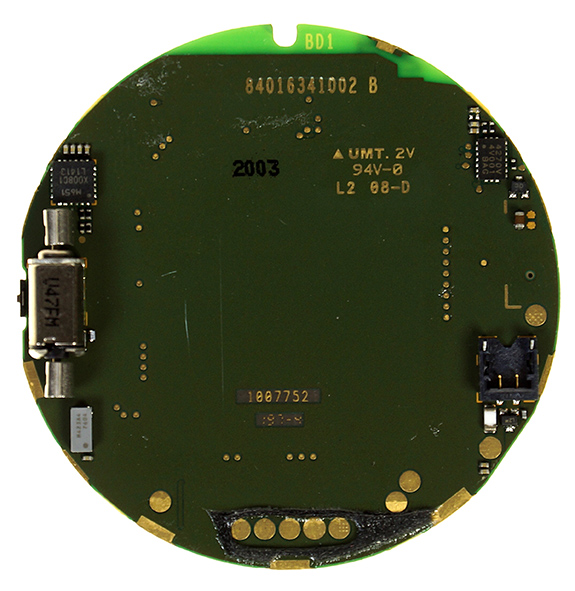 Source: IHS
Charging Coil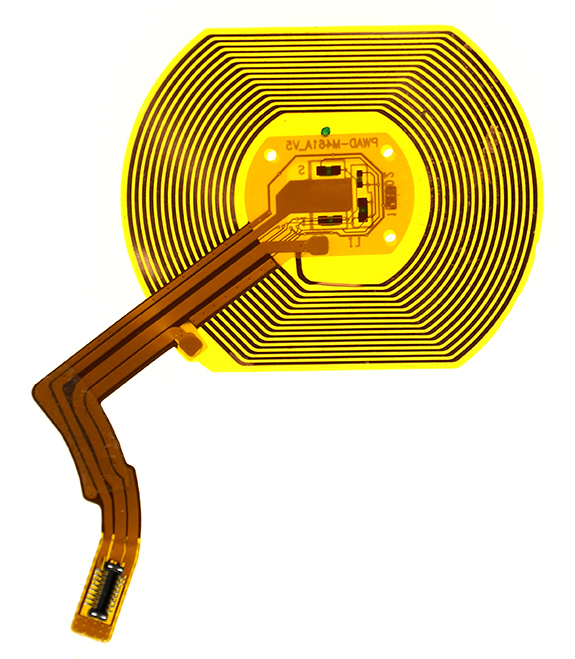 Source: IHS